Alberta Strip Loin with Swiss Chard, Smoked Corn, Tropea Onion & Jus
Written by Chef Vish
AAA Alberta Beef Strip Loin for this complex wine is my choice of cut. It enhances the flavours of the steak when seared or grilled. A Ribeye or Tomahawk would pair incredibly well too.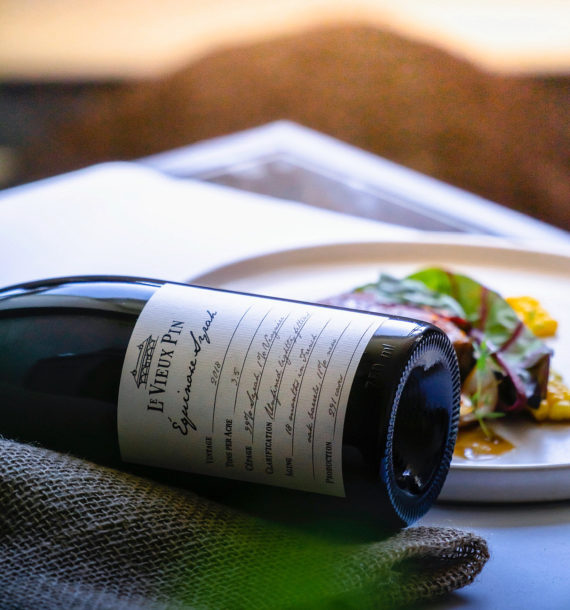 For the Beef Striploin Spice marinade
– 5gms Onion Powder, Garlic Powder each
– 3gms Paprika, Sugar each
– 2gms Calabrian dried chillies fine chopped, pepper, dried mustard, dried oregano each
– 4gms Salt
Mix all ingredients together and store in a jar until needed.
Rub the steak with the spice blend on all sides and let it temper at room temperature for at least 15 minutes.
Steak
Rub the steak with the spice blend on all sides and let it temper at room temperature for at least 15 minutes.
Heat a thick bottle skillet pan with 10ml of oil. Once the oil is almost smoking place you steak in the pan and pan it down so ensure the whole steak is on the pan getting a nice crust.
Cook for 5 minutes on the side and flip it over for another 3 minutes.
Add 10 gms of butter, 1 sprig thyme and a couple cloves of smashed garlic.
Baste the butter over the steak on all sides.
Sear the side for a minute and take the steak out on a resting rack.
Let the steak rest for at least 8-10 minutes before serving or slicing.
Sprinkle maldon salt on the steak before plating.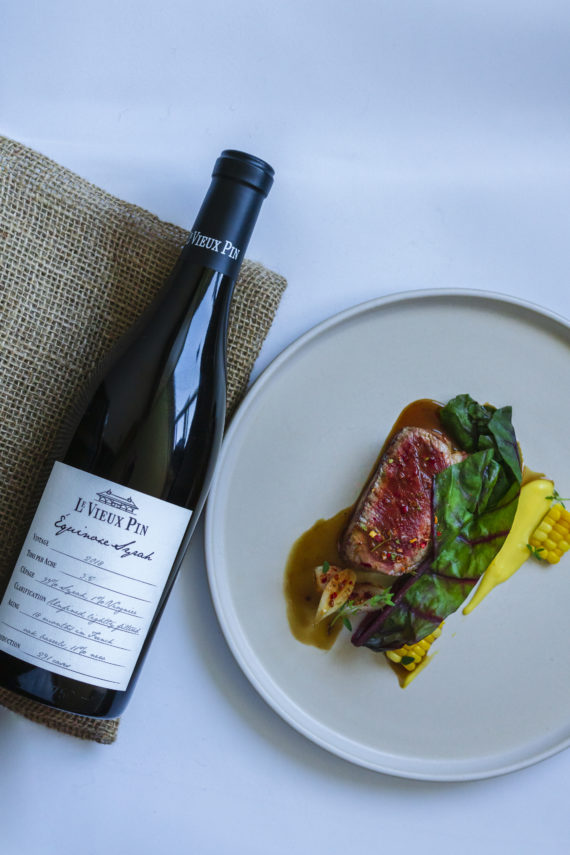 Tropea Onions
(If Tropea onions aren't available use cipollini onions)
Peel 2 tropea onions and seperate the layers keeping them intact.
In a pan add 10ml of oil and sear the onion skin side up getting a char on the edges of the onion.
Flip after 3 minutes and add salt pepper and deglaze with 10-15ml of red wine.
Add 50ml of chicken stock and let cook for 8 minutes.
Add 10gms of butter to the reduced chicken stock and cooked onions.
Take them off heat and save until ready to serve.
Swiss Chard
Clean and wash 1 bunch of swiss chard making sure all the leaves are clean off any dirt or grit.
Trim the ends and place them on paper towels and pat dry.
In a pan add 10gms of olive oil and 5gms of garlic. Saute for a minute.
When the garlic turns translucent add the whole leaves of swiss chard and lightly saute them.
Add a pinch of salt and pepper and flip the leaves around. Be gentle with them to keep them intact and avoid wilting them too much.
Add 10ml of chicken stock and 5gms of butter and lower the heat and let cook in the stock for 2-3 minutes.
Remove from the pan and store on a paper towel to remove excess moisture.
Au Jus
Take 1/2kg chicken and 1/2 kg beef bones and roast them in an ovenproof pan  with oil at 360 C for 30-40 minutes.
Once the bones are brown, place them in a pot and add one roughly chopped carrot, celery, onion, garlic and leek.
Brown the vegetables with the bones in 10 ml of oil and add a couple bay leaves, 3gms of peppercorns, a sprig of thyme and rosemary.
After 5 minutes of searing, deglaze with 25ml of red wine and cook the wine down for 1 more minute.
Add 1 Litre of beef stock and let simmer on low flame for 1 hour. Spoon the excess fat off the top if necessary.
Once the stock is reduced by half, strain it in another pot and further reduce it by half. Season with salt and pepper.
Add 5gms of butter and whisk it in for some shine.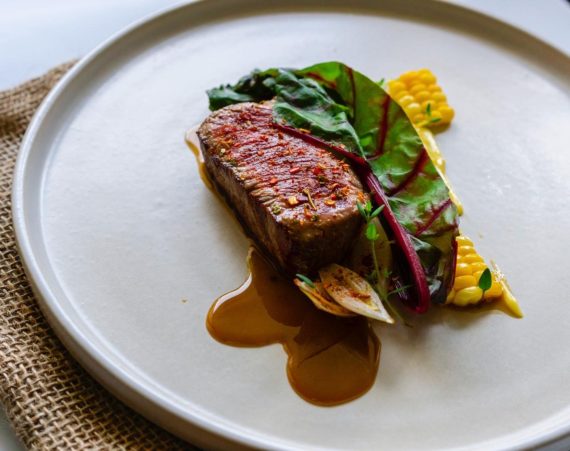 To Plate
Place the steak whole or slices on the plate, with swiss chard on one side and stack the tropea onion around the steak. Pour the au jus on the steak and around the plate and serve.
Recommendations:
If looking for some starch with the steak, truffled mashed potatoes or pomme frites work really well with this dish.