To pair with Le Vieux Pin Syrah Cuvée L'Abattoir – Lamb Cheeks Braised in Red Wine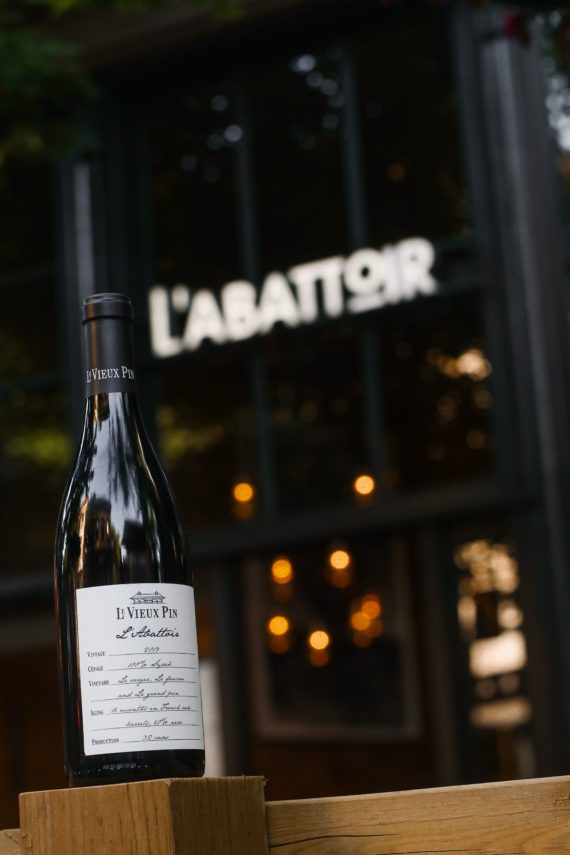 Recipe by Chef Lee Cooper
L'Abattoir Serves 6
Ingredients:
2 kg trimmed lamb cheeks
1 carrot (diced)
2 branches celery (diced)
1 large onion (diced)
6 cloves of garlic (peeled)
1 branch rosemary
5 sprigs thyme
2 bay leaf
1 tablespoon tomato paste
500 ml full bodied red wine
2 L chicken broth
flour for dusting
canola oil
salt
pepperMethod:
Season lamb cheeks with salt and pepper and lightly dredge them in flour (you could omit the flour if this is your preference)
Heat wide bottom pan over medium high heat and add enough oil to coat the bottom. Add the seasoned/floured cheeks and cook on both sides until golden brown. Remove from the pan and place into a braising dish/pan (reserve the pan)
In the same wide bottomed pan add the carrots, celery, onions and garlic and sweat for 2-3 minutes over medium heat. Add additional oil if required to sweat the vegetables.
Add the tomato paste and cook 1-2 minutes. Add the wine and cook until reduced by 75%
Add the chicken broth, bring to a simmer and remove from heat
Carefully pour the mixture into the braising dish over the lamb cheeks, ensure thecheeks are completely covered.
Add the rosemary, thyme and bay leaf to the braising pan.
Cover the braising pan with a lid and place into 325 F oven and cook forapproximately 2 hours or until lamb is tender.
Remove from the oven and allow to cook to room temperature, gently fish the cheeksout of the liquid with a slotted spoon and set aside.
Strain the cooking juices through a sieve and discard the vegetables and herbs,return the liquid to the pot and reduce until a sauce consistency is achieved, add salt

to taste if required.

Place the cheeks back into the braising pan with the sauce and warm in the ovenbefore serving.
Best enjoyed with Le Vieux Pin Syrah Cuvée L'Abattoir or any Le Vieux Pin Syrah really!
We had the best time working with L'Abattoir. We would like to thank them for this recipe and look forward to collaborating with them in the future!