At the end of January, a very good friend of the winery (Chef Victor Bongo) travelled to New York City to participate in the New York Times Travel Show – "Taste of the World, Kids Kitchen". Chef Bongo along with just recently former Pastry Chef of the White House Chef Bill Yosses (on the right), also got the chance to cook with Michelle Obama.
As a gift to say Thank You, Chef Bongo and Chef Yosses sent a bottle of our wine home with the Obama's to enjoy. And although they didn't get the chance to sip wine with the President and First Lady, they did receive a message from them that they were really impressed with the quality of what Canadian wine can achieve!
It's a humbling feeling to receive high-end compliments regarding our little gem of a winery. It also is a reflection on our wine region in the South Okanagan, there are many winemakers making outstanding wines.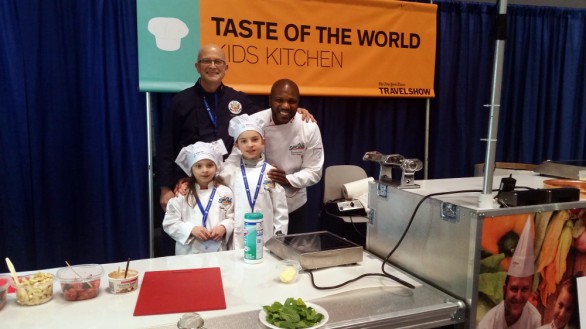 Thank you Chef Yosses and Chef Bongo, we are happy to have you both as fans! We hope to have Chef Yosses visit us in Vancouver and the South Okanagan in the near future to hold a Red wine and chocolate dessert pairing event.
Join our newsletter to stay informed about all upcoming events.