Today's Wine & Food Pairing is from Alex (our Wine Club Manager & Tasting Room Supervisor):
Wine – Ava (Viognier, Roussanne, Marsanne blend)
Food – Moroccan Chicken Tagine with Apricots and Almonds. Ava has body and weight. It is often overlooked at it's ability to handle spice and chillies. I think this dish encapsulates Ava's potential. Viognier's classic stone fruit flavours will pair nicely with the apricots found in the dish. The wine's weight shows elegance in it's ability accompany the subtle nutty and spicy elements of the chicken.
Recipe courtesy of The Daring Gourmet.
Moroccan Chicken, Apricot and Almond Tagine
Ingredients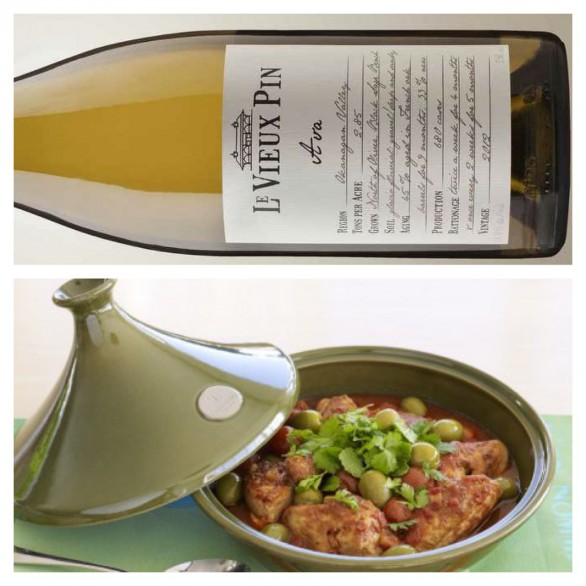 2 tablespoon olive oil
1 small onion, diced
1 tablespoon garlic, minced
1 tablespoon ginger, grated
1 lb chicken breast, diced (vegetarian/vegan: use 3 extra cups squash and an extra can of garbanzo beans)
2 teaspoons ground turmeric
2 teaspoons ground cumin
2 teaspoons ground coriander
½ teaspoon ground cinnamon
1 cup water
3 chicken or vegetable bouillon cubes
1 (15 ounce) can garbanzo beans, drained
1 tablespoon harissa (or less if you prefer less spicy) (or other red chile paste)
1½ tablespoons honey (vegan: substitiute agave syrup)
⅓ cup dried apricots, chopped
⅓ cup raisins
⅓ cup slivered almonds
½ of a preserved lemon (click for instructions) or 2 tablespoons fresh lemon juice (not remotely the same thing, but you can use it in a pinch)
4 cups butternut squash (or sweet potatoes or pumpkin), peeled, seeded and cut into bite sized pieces
Salt to taste
Extra slivered almonds for garnishing
For the couscous:
2 cups water
2 tablespoons butter
1 chicken or vegetable bouillon cube
2 cups couscous
Instructions
Heat the oil in a large Dutch oven. Add the onion and saute until translucent, about 5 minutes. Add the garlic and ginger and saute for another 2 minutes. Add the chicken, turmeric, coriander, cumin, and cinnamon, stir to combine, and saute until the chicken is no longer pink.
Add the water, bouillon cubes, chickpeas, harissa, honey, raisins, almonds, and lemon juice. Stir to combine. Bring it to a boil, reduce the heat to low, cover and simmer for 10 minutes.
Add the butternut squash, stir to combine, return to a simmer, reduce the heat to low, cover and simmer for another 25 minutes, or until the squash is fork-tender.
Garnish with some slivered almonds and serve with the couscous.
To make the couscous:
Bring the water to a boil in a medium saucepan. Add the butter and bouillon cubes and stir until dissolved. While the water is still boiling, add the couscous. Turn off the heat, cover, and let stand for 10 minutes. Fluff with a fork and serve.