Today's Wine & Food Pairing is from Severine (our Winemaker):
Wine – Vaila Rosé
Food – A classic Greek Salad or a Prosciutto Pizza (recipes below)
The Ultimate Greek Salad Recipe courtesy of Nigella Lawson.
Substitute sliced fennel for the more traditional cucumber (which also has the benefit of not making the salad go wet and soggy on standing around); and let the onion steep, sprinkled with dried oregano, in the oil and vinegar for long enough for it to lose any potential for that acrid, rib-sticking aftertaste. This version is mild, abundant, gloriously summery. If you don't like fennel, then just leave it out, but exclude, still, the cucumber.
Ingredients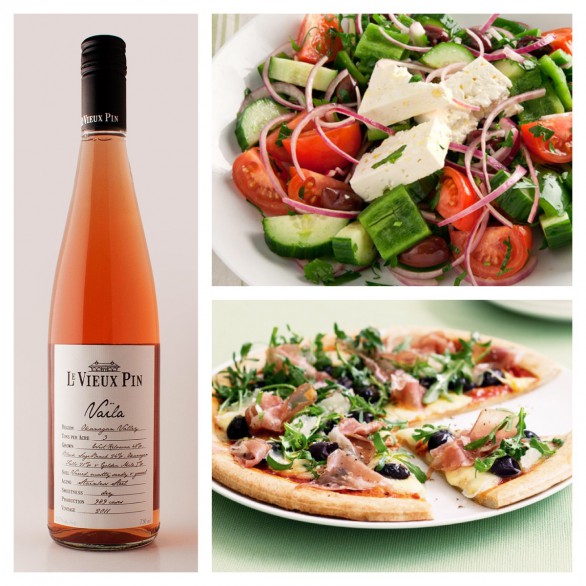 1

 

red onion

1

 

tablespoon

 

dried oregano

black pepper

1

 

tablespoon

 

red wine vinegar

¾

 

cup

 

extra virgin olive oil

5

 

medium

 

tomatoes

1

 

teaspoon

 

superfine sugar

1

 

pinch of

 

sea salt flakes

1

 very  

large

 

romaine lettuce

1

 

bulb

 

fennel

¾

 

cup

 

pitted black olives

1

 

lb

 

feta cheese

juice of  

½

 

lemon
Prosciutto and Arugula Pizza Recipe courtesy of The Kitchn.
Makes one 10-12″ pizza
1 ball pizza dough, store-bought or homemade (see Additional Notes)
1 tablespoon olive oil
2 tablespoons tomato sauce, store-bought or homemade
3/4 cup grated mozzarella cheese
4 slices prosciutto
A couple handfuls arugula
If you have a pizza stone, place it on a rack in the middle of the oven. Preheat the oven to 550°F (or maximum oven temperature) for at least 30 minutes.
If transferring the pizza to a stone in the oven, assemble on a well-floured peel or cutting board. Otherwise assemble on the surface you will be cooking on (parchment paper, baking sheet, etc.). Roll or stretch the dough into a circle. Brush the edges of the dough with olive oil. Spread the tomato sauce over the rest of the dough. Sprinkle with about half the cheese. Lay the prosciutto slices so they are evenly covering the dough and sprinkle with the remaining cheese.
Bake the pizza until edges are lightly browned and cheese is bubbly and browned in spots, about 6 minutes at 550°F. Remove from oven and scatter arugula over the top.