Today's Wine & Food Pairing is from Mike (our Operations Manager):
Wine – Equinoxe Syrah
Food – One of Mike's favourite winter dishes is a Venison Daube (like a bourguignon cooked with black olives).
Recipe courtesy of Cuisine.
Venison & Prune Daube with Roast Cauliflower, Olive & Pine Nut Salad
Ingredients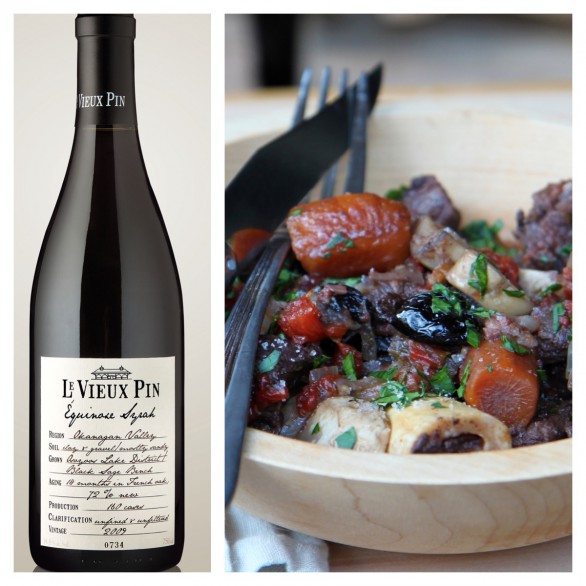 SERVES: 4
Rich flavours of venison, sherry and prunes are offset by a roast cauliflower and olive salad
4 tablespoons olive oil
2 onions, diced
1 teaspoon toasted coriander seeds, crushed in a mortar and pestle
2 cloves garlic, crushed to a paste with a pinch of salt
1 carrot, peeled, finely diced
1 celery stick, peeled, finely diced
500g cubed Denver leg venison (I used Silver Fern Farms)
2 tablespoons flour
50g pitted prunes, finely sliced
zest of 1 orange
1⁄4 cup dry sherry
2 cups beef stock
Preheat the oven to 160°C. Heat the oil in an ovenproof frying pan then fry the onions for 7 minutes or until soft and translucent. Add the crushed coriander seeds and garlic and fry for a minute before adding the carrot and celery. Reduce the heat and gently fry the vegetables until soft. Remove the vegetables to a plate with a slotted spoon.
Dust the venison with the flour then increase the frying pan heat and brown the venison on all sides. Return the vegetables to the pan, along with the prunes, orange zest and sherry. Allow the sherry to bubble for 1 minute then pour the stock over the top and season with salt and freshly ground black pepper.
Cover tightly with foil or a lid then cook in the oven for 2 hours or until the meat is very tender (check the liquid level after 1 hour and add a little water if necessary). Serve with the cauliflower salad.
Roast cauliflower, olive & pine nut salad
1 cauliflower, cut into florets
4 tablespoons olive oil
20 pitted Kalamata olives
2 tablespoons pine nuts
juice of 1 orange
1 small red onion, finely diced
Preheat the oven to 180°C. Toss the cauliflower with 2 tablespoons of the oil and season with salt and freshly ground black pepper.
Put the cauliflower in a single layer on a baking-paper-lined baking tray then roast for 10 minutes or until crisp and golden around the edges.
Scatter the olives and pine nuts over the cauliflower then cook for a further 2-3 minutes or until the pine nuts are golden (watch this stage carefully, as the pine nuts will brown quickly).
Whisk the orange juice, onion and remaining 2 tablespoons of olive oil together then toss this dressing together with the cauliflower mixture. Serve with the venison.