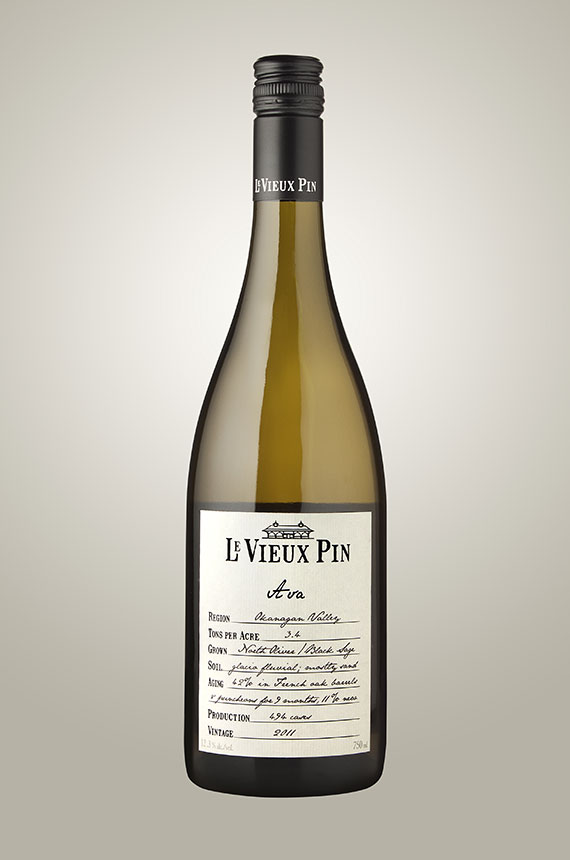 2011 'Ava'
2011 was a long and cool growing season without the extreme daytime heat the South Okanagan is known for. This resulted in grapes that achieved full phenolic ripeness at record low sugar levels (and thus low alcohol levels). South Okanagan had an amazing fall with mild weather which gave us the luxury of a seven week long picking window. 2011 goes into the history book as an atypical, yet very welcome vintage.
The keys to growing these late ripening varieties successfully are to keep yields very low and to manage the canopy carefully to expose the bunches to the sun and promote air circulation.When mastered, the dried apricot and floral aromas step forward firmly.
Meat-Based
Herb-crusted quail or chicken with corn breadsStuffing served with apricot jus or a side dish of roasted potatoes in herbes de Provence would go perfectly with this wine.

Plant-Based
A mild spicy noodle dish like pad thai or a mixed vegetable stir fry would pair marvellously.
Slideshow Items
The "Ava", a blend of 78% Viognier, 11% Marsanne and 11% Roussanne offers a slightly muted nose but, there's lost to like with peach and apricot fruit aromas adding to the pleasant, aromatic bouquet. Clean and crisp with good minerality on the rounded, medium-plus bodied palate. Good balance, length and depth. Enjoy now or cellar for 2-3 years for further development. Drink 2012-2015.

91 points

A beautifully aromatic, charming southern Rhone inspired blend. Very well balanced with seamless integration of flavours. Thoughtfully produced with notes of dried rosemary, yellow apple, apricot and slightly bitter almonds. Despite the hot, dry climate, firm acidity is still present. Very little oak ageing is detectable but the wine is open and honest. Tasted December 2012.(90 points) john schreiner: This is 78% Viognier and 11% each of Marsanne and Roussanne. The wine has aromas of apple and citrus, with a core of melons, apples and minerals. The finish is crisp and refreshing.

91 points

A very classy and improved version of the Ava over the 2010, an intriguing, Rhône-inspired blend of viognier-roussanne-marsanne that's partially aged in oak (barrels and puncheons, 500l). The nose is an elegant mix of sweet and savoury herbs, cinnamon-tinged orange and orchard fruit notes, essential oil of violet and other nuanced and complex notes that make this well above the mean in terms of interest. The palate is fullish but well balanced, with seamless oak and very good to excellent length. Amazing to pack so much flavour into a wine with just 12.3% alcohol – that's good viticulture. A wine made with both confidence and savoir-fair. Tasted December 2012.

91 points

This is a ground-breaking blend (for the Okanagan) of viognier, marsanne and roussanne -Rhone varieties that do well in the dry, sunny climate of southern France. It has a lifted, engagning nose of rosemary, persimmon, starfruit and spice from partial ageing in French oak. It's medium weight, racy, warm and very spicy. The finish is somewhat bitter; the length is excellent to outstanding. Tasted December 2012.