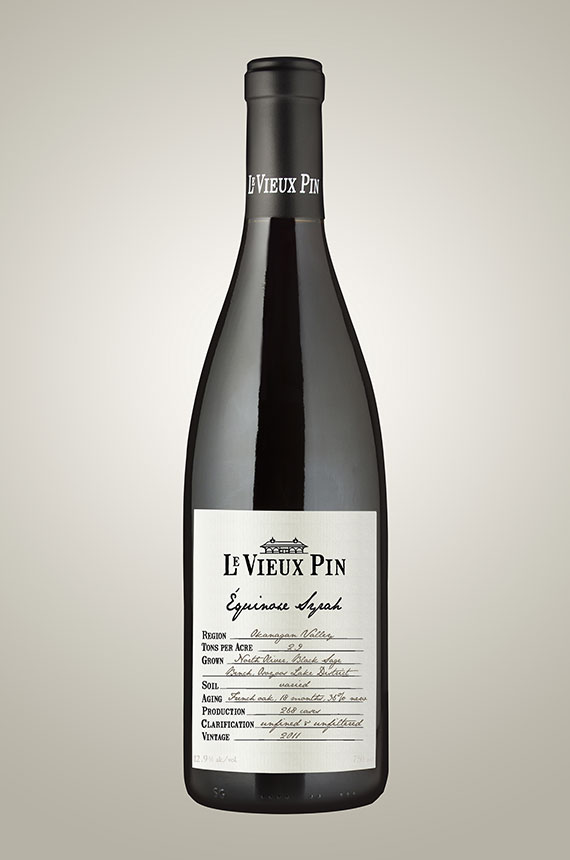 Winemaker's Notes
Twelve Bottle Limit Per Customer.
Équinoxe: equal day, equal night. Equal heat of the day, equal cold of the night. Equal new world, equal old world.
The 2011 Équinoxe Syrah is a cuvee comprised mostly of fruit grown from a single vineyard in North Oliver on an extension of the Black Sage Bench.
The 2011 Equinoxe Syrah is our flagship wine and a wine that captures the unique characteristics of South Okanagan: Heat of the dessert days married with the cold of desert nights. 2011 Equinoxe Syrah is a very complex wine with an intensely aromatic nose that has spices, black and white pepper and floral notes all jump out of the glass. The palate is silky with a solid ripe core of smooth tannins and bright acidity. A wine that seduces with its refined character and elegance rather than sheer volume or power.
Pairings
Centuries ago the black pepper spice trade launched voyages, wars and epic tales. A white and black pepper lamb or veal stew will find and accentuate the peppery notes in the wine to create a dramatic celebration of pepper. Cassoulet is another classic and seamless pairing.this wine to show you everything it has to offer.
Vineyards:
| | |
| --- | --- |
| Region: | North Oliver, Black Sage Bench, Osoyoos Lake District |
| Soil Type: | Glacial Fluvial Fan: Varied |
| Age of Vines: | 6-11 years |
| Yield: | 2.9 tons per acre |
| Production: | 278 cases of 750ml, 60 cases of 375ml, handful of magnums and double magnums |
| Alcohol: | 12.9% |
| Aging: | 18 months in French Oak Barrique, 400L and 500L puncheons, 36% new. |
92 Points
Steely and compact, this rather reluctantly opens to reveal subtle complexity. The mix of tart blueberry and blackberry fruit is accompanied by scents of cured meat, menthol and garrigue. It spent 18 months in a mix of barrels and puncheons, yielding a pleasant finishing impression of cedar. Decant this for at least an hour or two.

Wine Enthusiast | Tasted: 2015
92 points
I'm convinced the cool 2011 growing season is behind this fabulous scented red. Dry and firm; if you close your eyes you would think with it's a Northern Rhone. The spice, the bacon, the white pepper the floral notes everything comes together here with licorice and superb balance. So impressive in the mouth and long and it is still just a baby. There is one percent viognier co-fermented in the mix. Serve now with lamb chops or cellar five years.

Anthony Gismondi | Vancouver Sun, Gismondi on wine | Tasted: August 2014
92 points
Smoked meat, steak spice, bit of red fruit, savory and herbal notes: this is a complex wine that keeps growing on you. The brightness on the nose and the original character make it very distinctive – and keeps you coming back for more.

Remy Charest | Châtelaine, Wine Press, Wine Align | Tasted: July 2014
The 2011 Équinoxe will provide considerable pleasure over the next six years. Dark ruby in colour, the wine reveals truly splendid aromas of peppery currants, plums, wild game, pipe tobacco, and a hint of dried blue fruits and spice. Complex, containing delicious fruit, firm tannins, balanced acidity, and an elegant, expressive hint of peppery currants, tobacco, and wild game on the finish. Great character, body, and class. Now-2019.

Julian Hitner | Hitnerwine.com | Tasted: Dec 2013
93-95 Points
This will not be released until October, 2014, even if it is already drinking well. The wine begins with aromas of menthol, balsam wood and cherries. It has gamey rare meat flavours, along with notes of cherry, raspberry and blackberry and with white pepper and spice on the finish. The alcohol is just 12.9%, perhaps enhancing the elegance of the wine.

John Schreiner | Tasted: Feb 4, 2014