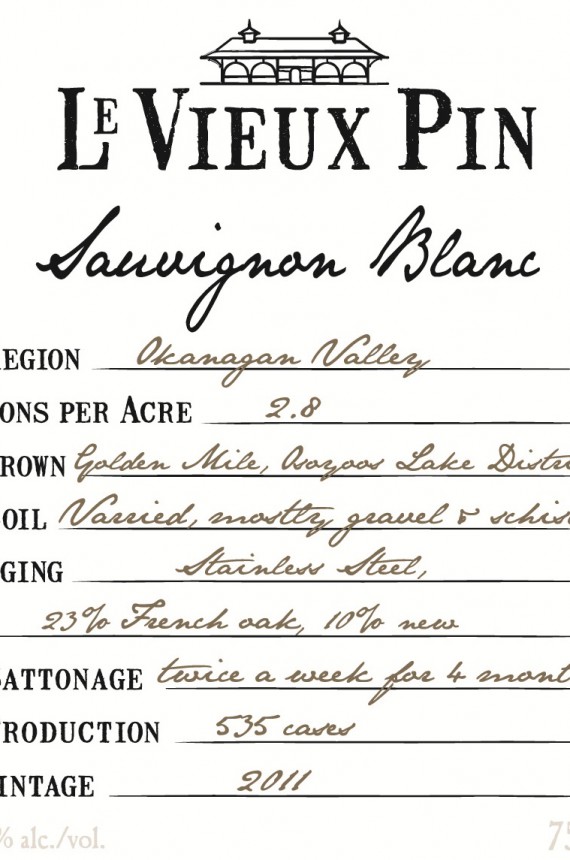 2011 Sauvignon Blanc
Stringent canopy management and timely leaf removal results in a spectrum of varietal characteristics ranging from tropical fruits to classic gooseberry and grass. The cool nights of the Okanagan provide great natural acidity and structure while keeping the fruit profile zesty and vibrant. Borrowing a little old world flair from Didier Dagueneau, we used partial oak fermentation and aging, extended lees contact and occasional battonage for added complexity and texture.
Meat-Based
Oysters on the half shell topped with lemon and pepper-infused vodka or frisée salad dressed with lardon and soft-boiled quail's egg are some of our favourites.

Plant-Based
Falafels with cucumber and mint sauce or cucumber, avocado sushi rolls topped with mango or papaya and a guava or passionfruit vinaigrette sauce drizzle.
Slideshow Items
Yet another exceptional vintage of Le Vieux Pin's Sauvignon Blanc. Expect layer upon layer of fruit-driven aromas, such as peaches and guava, nectarine and star fruit, apples and pomelo citrus layered with fresh green herbs. The palate is tangy and pristine with citrus and apple flavours. It has wonderful freshness and complexity and attractive mid-palate weight.

"This slender young sauvignon is cucumber cool, with a reserved nose of green pear, nettle and gooseberry – very much more like a Loire/Sancerre rendition than New Zealand. It's light to medium bodied, lean and fresh with an unusual flavour mindful of miso amid the lime, kiwi and grapefruit on the finish. The finish is tart and mouth-watering, the length is excellent. Best later in 2012 to 2015." (Tasted April 2012)

Think of a subdued Loire style Sauvignon Blanc, with herbal aromas and flavours along with the varietal's characteristic gooseberry and grassy notes. The finish is dry. About 24% of this was fermented in French oak with weekly lees stirring to add to the rich texture.