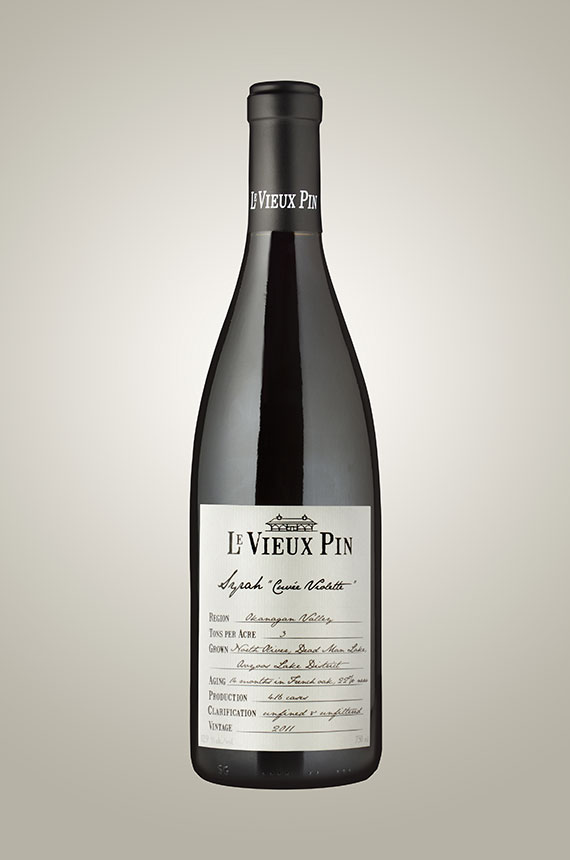 2011 Syrah Cuvée Violette
2011 was a long and cool growing season without the extreme daytime heat the South Okanagan is known for. This resulted in grapes that achieved full phenolic ripeness at record low sugar levels (and thus low alcohol levels). South Okanagan had an amazing fall with mild weather which gave us the luxury of a seven-week long picking window. 2011 goes into the history book as an atypical, yet very welcome vintage.
Cuvée Violette, as the name suggests, displays the perfumed and floral side of this very noble grape variety. Palate is silky smooth thanks to a gentle ferment with a focus on allowing the feminine qualities of Syrah to come to the foreground. This wine is meant for drinking upon release or can be aged for mid term (5-7 years).
Meat-Based

Crispy-Skin Duck Breast with a Lavender Honey Gastrique or Steak Dianne with a Flambe of Crème de Violette and Cassis Moutarde is a match made in heaven as well.

Plant-Based

Hearty, earthy and lightly herbal food with this one. Lentil Walnut Meatloaf with Burnt Onion Jus is definitely a winner.
Slideshow Items
It has a very pronounced nose with violets, nutmeg, allspice, and red fruit. Medium plus body, with flavours of blueberries, red fruit, red cherries, and violets. Soft tannins with a medium plus length. A very nice, very flavourful wine.

90 points

This well priced wine, with an eye on the restaurant by-the-glass market, validates the Black Sage Bench winery's continued experimentation with Syrah. Gone is the costly 18-month, new French oak program, this release focuses more on the aromatic qualities of the Rhone Valley grape, hence the name, and less on highly extracted tannins and fullness. The palate has been left quite light with a good balance of fruit, pepper and herbaceous flavours, while the nose successfully expresses the lovely, feminine, floral aromas achievable by Syrah.

This approach may ultimately be more of a reflection of the cooler vintage which didn't lend itself to the super-ripe and extracted style of Syrah, but whatever the future holds for this sku, I'm happy to see it as a new edition to the LVP portfolio, at least for now. Drink 2013-2016+.

92

A hedonistic plethora of floral, musky, ripe red berry tones not only danced from the glass when poured, but continued to evolve for the entire time we had the bottle open. Stunningly fresh yet balanced acids, fine and well integrated tannin,  full concentration of flavors that evolved as well. Utterly delightful and well-worth cellaring.