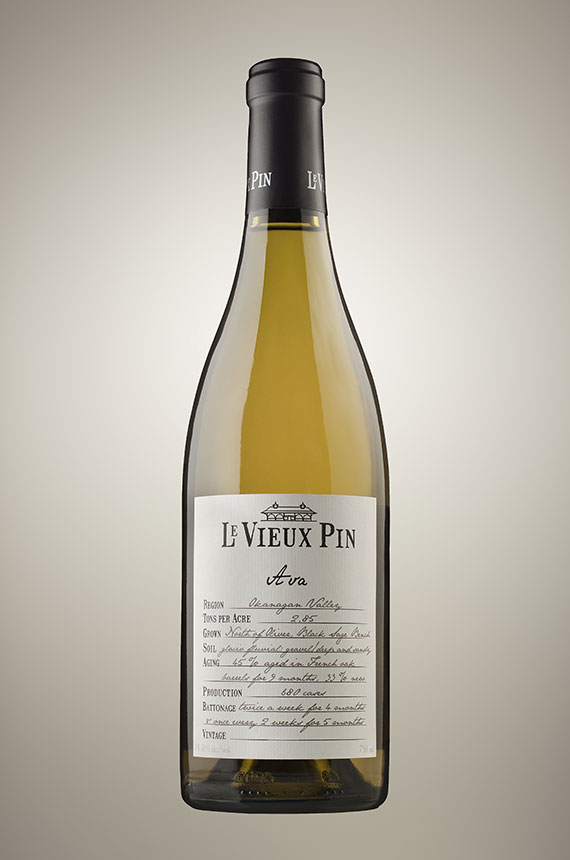 Winemaker's Notes
After three atypical vintages in a row, 2012 is a return to a more typical growing season in the South Okanagan Valley. After an initial scare of unusually high record rainfall in late spring the remainder of the growing season was an absolute dream come true. Mid July till late fall gave us very hot days combined with typical cold desert nights. Growing degree days for the South Okanagan were above average and certainly much higher than 2010 and 2011. One of the hallmarks of this vintage was the extremely uniformly ripe and clean grapes with minimal need for sorting (quite the opposite of 2008 and 2010 and what we are seeing in 2013 as I type these words). The resulting wines are more fruit forward with round structure thanks to plenty of sunshine and heat units; the cool nights resulted in excellent, piercing aromatics and bright acidity in the wine.
2012 Ava is composed of 61% Viognier, 21% Roussanne and 18% Marsanne. The keys to growing these late ripening varieties successfully are to keep yields very low and to manage the canopy carefully to expose the bunches to the sun and promote air circulation.When mastered, the telltale dried apricot and floral aromas step forward firmly with that hard to miss oily and viscous qualities these grape varieties are admired for. 

Pairings
Heritage roasted chicken with traditional stuffing or game bird with tropical fruit accents.
| | |
| --- | --- |
| Region: | Black Sage Bench |
| Soil Type: | Glacio Fluvial fan: Gravel and Sand at Crowley Vineyard, Mostly Sand and Silt with rare Gravel at Le Grand Pin Block |
| Age of Vines: | 5 to 9 years |
| Yield: | 2.85 tons per acre |
| Production: | 680 cases |
| Alcohol: | 14% |
| Aging: | 9 months in 45% French Oak Barrels, 500L Puncheons, 33% New |
93 points
A brilliant blend of 61% Viognier, 21% Roussanne and 18% Marsanne, this impresses with its proportion, tension and balance. Scents and flavours meld citrus oil and rind, fruit flavours of pineapple, grapefruit and meyer lemon, and a lovely finish with highlights of English breakfast tea. Long and elegant, this is a landmark effort. Editors' Choice.

Wine Enthusiast | Tasted: 2015
Late-ripening Viognier, Rousanne, and Marsanne grapes aren't the easiest in BC's short growing season, but the sun-soaked South Okanagan is doing them justice – at least at Le Vieux Pin. The winemaking team truly allows the wine to express the vintage, adjusting the percentages of grapes and oak treatment in accordance with what Mother Nature gives them. Always curvaceous and floral, some years Ava is slightly more corseted and modest while other years she's a voluptuous blonde bombshell. 2012 is definitely the latter with rich peach, apricot, and honeysuckle notes. Drink with pork roast.

Michaela Morris | Westender | Tasted: Nov 2014
90 points
Good spicy nose, also apricot, rich flavors and nerve, muscle tone, freshness. Well done!

Marc Chapleau | Rédacteur en chef du magazine Cellier (SAQ) | Tasted: July 2014
The 2012 vintage is a graceful wine that is still on the younger side and benefits from decanting and the right temperature to really enjoy the perfume-like aromas and richness on the palate. On the nose, there is honeysuckle, which is becoming the trademark of Ava even from cooler vintages, white pepper, beeswax, and a perfume of white flowers. The mouthfeel is rich and elegant, and the fruit and acids find a balance. On the palate, crisp and vibrant lemon and Golden Delicious apples lead, with a tremendously long finish with softer notes of apricots, apple and spice.

With a delightfully old-world touch, Le Vieux Pin's French vigneron Severine Pinte has shepherded from vine to bottle what is most certainly a food lover's wine. We paired Ava with a tuna tataki and avocado salad that worked really well. Plays very well with roast fowl as well. Ready to drink now (best decanted) but also a welcome addition to your cellar.

Timo | wineshout.com | Tasted: April 7, 2014
91 points
The enchanting, Rhone-inspired "Ava" combines 61% Viognier, 21% Roussanne and 18% Marsanne into a deliciously rich and creamy textured wine that blends tropical and melon fruit with mineral and exotic nut aromas and flavours to create a layered, sensual wine that will stand on its own or pair with Poulet de Bresse-esque dishes. Ripe citrus fruit keeps the full-bodied palate tasting fresh and balanced through to the long, long finish where hints vanilla bean and cardamom spice linger. Drink 2012-2015.

Liam Carrier | iconwines.ca | Tasted: March 9, 2014
The authenticity and complexity of the semi-tropical fruit aromas in this three-grape blend suggests Mediterranean/Rhone white varieties are entirely appropriate for the Okanagan. It's 61% viognier, 21% roussanne and 10% marsanne. The nose is generous and spicy, with pineapple/starfruit, fresh herbs, white pepper and paraffin aromas that hold steady. I wanted a bit more flesh and richness on the palate for this wine style but it is not bad – maybe just needs older vines down the road. There is classic Mediterranean anise on the finish. Some heat and acidity as well. Excellent length.

David Lawrason | Wine Align / Toronto Life | Tasted: Dec 2013
Pale-light lime in colour with a touch of straw, the 2012 Ava offers delightful scents of honeyed apricots, lemon, marzipan, melon, and a hint of wet stones and vanillin. Complex, with impressive fruit orientation, balanced acidity, and a lovely hint of honeyed apricots and nuts on the finish. Delicious personality, balance, and overall freshness. Viognier, Roussanne, and Marsanne. Now-2015+.

Julian Hitner | hitnerwine.com | Tasted: Tasted December 2013
92 points
The blend is 61% Viognier, 21% Roussanne and 18% Marsanne. This wine, which will be released in the spring of 2014, is barrel-aged and closed with cork. It is already an elegantly polished wine with an intriguing hint of white pepper in the aroma and on the finish. In between, there are flavours of citrus, melon and apple. The generous texture gives the wine good weight on the palate.

John Schreiner | Tasted: Feb 4, 2014
92
The blend is 61% Viognier, 21% Roussanne and 18% Marsanne. This wine, which will be released in the spring of 2014, is barrel-aged and closed with cork. It is already an elegantly polished wine with an intriguing hint of white pepper in the aroma and on the finish. In between, there are flavours of citrus, melon and apple. The generous texture gives the wine good weight on the palate.

John Schreiner | Tasted: Nov 28, 2013