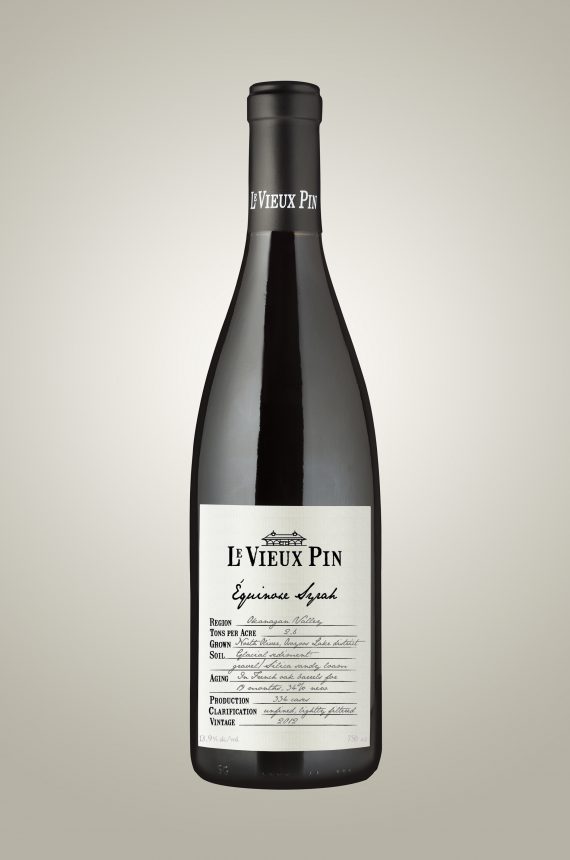 2012 Equinoxe Syrah
Équinoxe: equal day, equal night. Equal heat of the day, equal cold of the night. Equal new world, equal old world.
After three atypical vintages in a row, 2012 is a return to a more typical growing season in the South Okanagan Valley. After an initial scare of unusually high record rainfall in late spring the remainder of the growing season was an absolute dream come true. Mid July till late fall gave us very hot days combined with typical cold desert nights. Growing degree days for the South Okanagan were above average and certainly much higher than 2010 and 2011. One of the hallmarks of this vintage was the extremely uniformly ripe and clean grapes with minimal need for sorting (quite the opposite of 2008 and 2010 and what we are seeing in 2013 as I type these words). The resulting wines are more fruit forward with round structure thanks to plenty of sunshine and heat units; the cool nights resul- ted in excellent, piercing aromatics and bright acidity in the wine.
The 2012 Equinoxe Syrah is comprised of fruit grown in two very different but complementary sub appelations in the South Okanagan Valley. A traditionally made Syrah in the sense that the sum is considered greater than the parts (lieux-dits trumping single cru ala Chez Jamet, JL Chave, Clape). The resulting effort is a very complex wine with medium+ garnet colour that perfectly and effortlessly combines elements of both old world and new world styles. This monumental wine is at the same time feminine and masculine. It has grace and power, spice and florals, game and savoury notes. Yin and yang come together to showcase a perfectly balanced Syrah.
Please note prices do not include applicable taxes or bottle deposit (PST 10% and GST 5%)
Centuries ago, the black pepper spice trade launched voyages, wars and epic tales.

Meat-Based
With this wine we suggest a seared New York steak paired with peppercorn sauce to fill the air with peppery goodness to celebrate the world's single greatest spice.

Plant-Based
Portobello mushroom burger with pepper-garlic aioli or marinated tempeh steak with mushroom and peppercorn gravy are incredible too.
Slideshow Items
92-94 Points

Produced in the Northern Rhone method which blends in Viognier (3.5%) during fermentation, then aged in French oak for 19 months before bottling. Still youthful at 3 years of age with further development to come over the next 4+ years, though, it may hold for 10 years or more.

93 points

From a vintage that pushes the fruit out in front, this is loaded with tart, tangy blackberry, boysenberry and huckleberry flavors. At first stiff and compact, it blooms open to reveal streaks of sandalwood, sassafras, iron filings and clean earth. It's a high-wire wine with aging potential at least until 2030. Cellar Selection.

92 pts

A Syrah [with] a measure of immeasurable complexity. The aromatics of violets, hyacinth and pepper are on magnified display. Add in sage and tobacco. Has grape tannin and wood spice in waves. The coarse salt, liqueur grain and pool of tension require much patience and respect. If [2012 cuvee] Classique needs five, Équinoxe needs ten, or perhaps until the next solar eclipse on the vernal equinox. That will be in 2034. Here's to hoping this hematic pugilist will be ready to drink by then. Drink 2022-2034.

This is a lovely expression of southern Okanagan syrah – really well knit, fairly ripe and elegant with lifted aromas of dark black cherry, age, pepper, florals and a slightly earthy note. The nose is very fine. It's full bodied, dense, smooth and cohesive then quite dry on the finish, with some sense of both sand and stone. there is some elegance here to be sure. With a slightly meaty finish. Excellent length. Best 2017 to 2022.