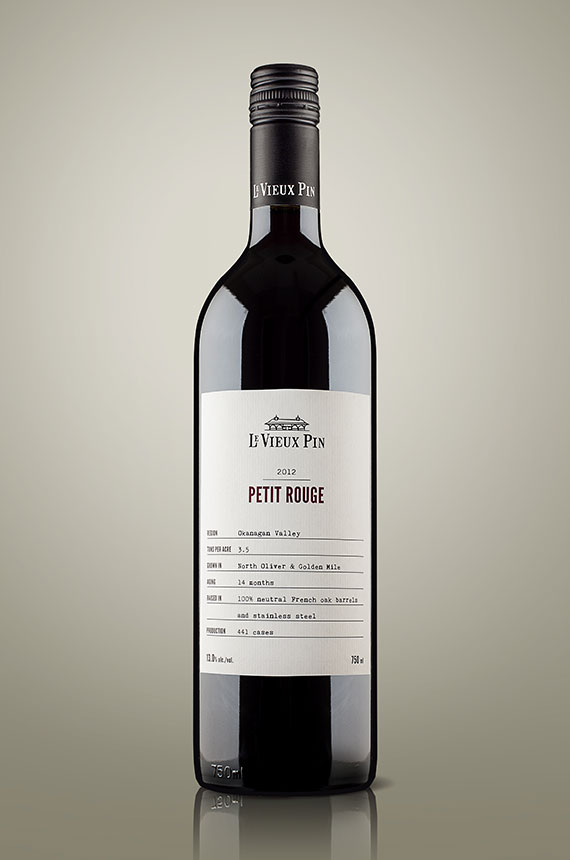 2012 Petit Rouge
The inspiration for petit rouge is to make a wine that adheres to the same exacting standards and level of care as the rest of the wines at Le Vieux Pin, but at the same time is more accessible upon release. Made from the fruit of younger vines and vines pruned and cropped at less stringent levels, petit rouge offers a big bang for your buck.
The palate is lively and harmonious. Great balance of fruit, tannin and acid, makes this wine quite versatile. Merlot brings structure and dark fruit profile while Syrah brings lushness, subtle spice and that beautiful natural acidity Okangan wines are known and loved for. Perfect for any occasion, which is our intention behind making this wine.
This beauty goes well with so many different dishes. While it is perfectly fine to drink on its own, it is at the dinner table with food that this wine will shine brightly.

Meat-Based
Enjoy it with pork chops glazed with macerated red cherry sauce or with a pâté & charcuterie board.

Plant-Based
Vegan enchiladas or a hearty ratatouille on brisk fall evenings are perfect companions too!
Slideshow Items
90 points

This wine is primarily a blend of Merlot and Syrah with a splash of Gamay Noir and Pinot Noir. The juicy and drinkable palate results from aging the wine 14 months in neutral oak and stainless steel. The wine has aromas of black cherry and blackberry with black cherry and black currant on the palate. The value here is excellent.