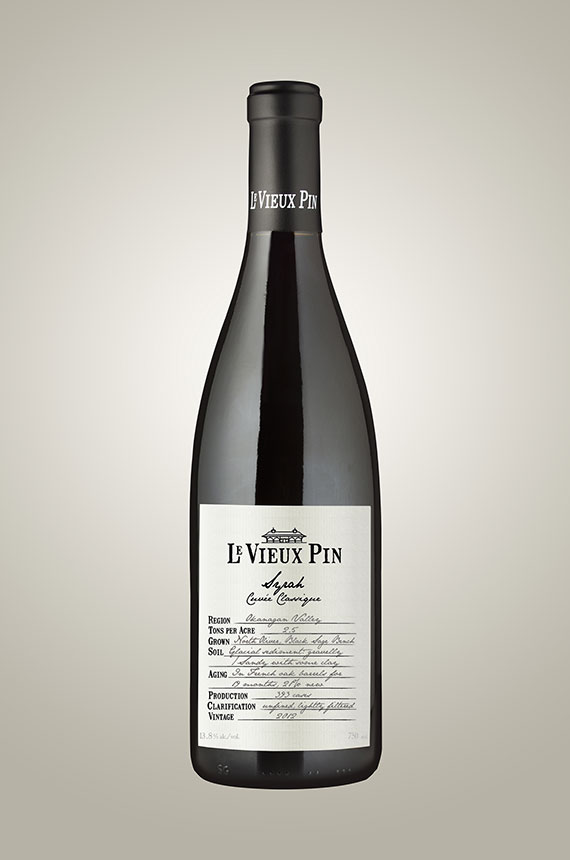 2012 Syrah Cuvée Classique
After three atypical vintages in a row, the 2012 growing season is a return to a more typical summer growing season in the South Okanagan Valley. After an initial scare of unusually high record rainfall in late spring the remainder of the growing season was an absolute dream come true. Mid July till late fall gave us very hot days combined with typical cold desert nights. Growing degree days for the South Okanagan were above average and certainly much higher than 2010 and 2011. One of the hallmarks of this vintage was extremely uniformly ripe and clean grapes with minimal need for sorting (quite the opposite of 2008, 2010 and 2013). The resulting wines are more fruit forward with round structure thanks to plenty of sunshine and heat units; the cool nights resulted in excellent, piercing aromatics and bright acidity in the wine.
While it combines elements of both the old and new world, our Syrah Cuvée Classique leans more toward what you would expect from France's Rhone Valley – hence the name. While its younger sibling Cuvée Violette showcases the floral, graceful, perfumed side of Syrah, Cuvée Classique shows the dark, savoury, spicy and powerful side of this noble grape variety. The wine is nuanced, elegant yet structured in its youth. Black peppercorn, game meat, a mélange of wild berries, bacon and smoke form the aromatic and flavour profiles of this wine.
Please note prices do not include applicable taxes or bottle deposit (PST 10% and GST 5%)
Meat-Based
Rosemary and thyme-braised lamb shoulder with roasted fingerling potatoes or anise-crusted vision loin with garlic mash are a couple of our favourites to pair this wine with.

Plant-Based
Cauliflower steak with romesco sauce or a lentil shepherd's pie will go a long way with this wine.
Slideshow Items
94 points

This 100% varietal cuvée is smoky, supple and detailed. From the first sniff, what comes to mind is spice-rubbed grilled venison. In the glass it's fresh and full, with blackberry and loganberry jam. The freshness, tension and balance are pitch-perfect. Editors' Choice.

91 pts

The mid-range in Le Vieux Pin's lineup of syrah, the "Classique" is a firm and meaty, slightly tarry wine, with considerable extract. Peppery fruit is cloaked in a blanket of tannins for the time being, and acids emerge a touch hard and brittle on the finish, so I'd tuck this in the cellar for another 2-3 years to let it unfurl. A dense and chewy, solidly structure wine all in all.

This quite ripe syrah has a decent overall sense of drinkability as well as intrigue, if not the most elegant of examples. The nose shows lifted, classic meaty, peppery, gamey and brambly fruit notes that are quite classic. BC hot stone minerality and sage on the finish. Excellent length.

Is more of a brute, with grippy tannins that will mellow out in 3-5 years, but if you can wait 8 to 10 years, it could be at its peak. This is a wine that exemplifies the ageability of wines from the OKanagan, something that is still widely underestimated. It's definitely more tannic than it's younger cousin, the Violette. Though vanilla and soft berries come through, the fatty, gamey, peppery (darker peppers than the Cuvée Violette) notes, and the formidable structure shine. There's oomph here for the patient palate.

92-94 Points

This dark brooding Syrah begins with aromas of plum and black pepper. It has smoky flavours of black olives and plums with an earthy note on the finish. The minerality gives this wine a muscular and age-worthy structure. 92-94.

90 pts

The dream season finally arrived in 2012 and the syrah fruit was a benefactor coming in to the winery pristine. Warm days pumped up the fruit and the cool desert nights brings the freshness pepper and acidity crucial to great syrah. We hate to say more Rhone than Okanagan but it's a good description of the Cuvée Classique with its intense savoury/garrigue, spicy, bacon-scented nose and peppery floral, wild black fruit flavours. There's plenty of tannin throughout but all in soft packets that will add a decade of life. No rush here but if you must try it served with grilled lamb. The wine is aged 19 months in wood.

92 pts

A denser, more masculine Syrah than its vintage cousin, the "Cuvée Violette", with concentrated cool berry and menthol aromas supported by handsome cherry-cola, vanilla-spice and light incense notes. This is a nose you can appreciate for hours. The palate is equally impressive with a concentrated, yet, elegant medley of cherry, white pepper and savoury flavours supported by fine tannins and a great kick of acid before the long, balanced finish takes over.
Ready to go now, though, will age comfortably in your cellar for another 5-6 years. Drink now-2020.

91 pts

This is one of the a trio of syrah that Le Vieux Pin produces in their quest to explore all personalities of the grape in the Southern Okanagan. In the Cuvée Classique, 100 percent syrah from North Oliver reflects the savoury, brooding face. Perfumed black florals, bacon fat, cracked clove and pepper aromas. The layered palate is fresh with wild blackberries, herbal cassis, black cherry and cracked black pepper. Firm tannins frame this structured wine, but the sun ripened fruit cushion complements it seamlessly. Lingering salted sage and smoky bacon begs pairing with rilled lamb now, or cellar for 3-5 years.

92 pts

The 13.8% alcohol of this wine is the first clue to its elegance. It begins with spicy and gamey aromas along with vanilla and black cherry. On the palate, there are flavours of spicy black cherry with a hint of minerals and sage on the finish. The wine, which is aged 19 months in barrel, is full on the palate.