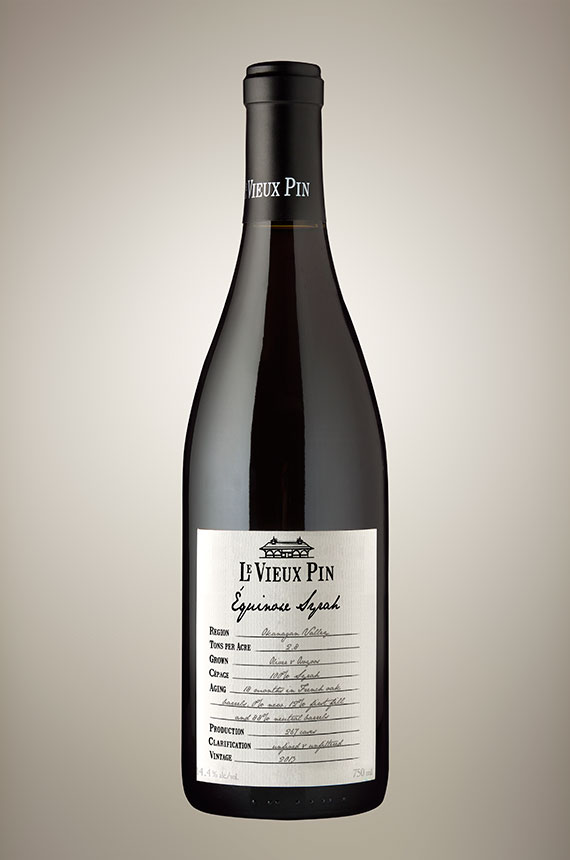 2013 Equinoxe Syrah
Équinoxe: equal day, equal night. Equal heat of the day, equal cold of the night. Equal new world, equal old world.
The 2013 Equinoxe Syrah is comprised of fruit grown in various sub appellations in the South Okanagan Valley: The golden mile, Black sage bench and Osoyoos lake district. A traditionally made Syrah in the sense that the sum is considered greater than the parts (lieux-dits trumping single cru ala Chez Jamet, JL Chave, Clape). The resulting effort is a very complex wine with medium+ garnet colour that perfectly and effortlessly combines elements of both old world and new world styles. This monumental wine is at the same time feminine and masculine. It has grace and power, spice and florals, game and savoury notes. Yin and yang come together to showcase a perfectly balanced Syrah.
Centuries ago, the black pepper spice trade launched voyages, wars and epic tales.

Meat-Based
With this wine we suggest a seared New York steak paired with peppercorn sauce to fill the air with peppery goodness to celebrate the world's single greatest spice.

Plant-Based
Portobello mushroom burger with pepper-garlic aioli or marinated tempeh steak with mushroom and peppercorn gravy are incredible too.
Slideshow Items
91 points

When you see mention of Rhône luminaries such as Jamet, Chave and Clape as Le Vieux Pin's inspiration for this wine, produced from four sub-appellations in the Okanagan Valley, you know they mean business. This is their flagship wine, aged in oak for 18 months – although no new oak is used and the majority is completely neutral, adding texture without the vanilla and spices that might mask the purity of the fruit. It's a rich and deep Syrah with a splash of Viognier, à la Hermitage, showing tons of blue and black fruit on the nose. There is a Rhône-like white pepper note infused in the plummy hedgerow fruit. A smooth and opulent red which showcases the potential of this region.

Drinking Window 2017 – 2024

93 points

One of the best Syrahs from a Canadian vineyard I've tasted. Dense purple in colour with a savoury-herbal nose of black fruits and a smoky note; full-bodied, dry and fruity on the palate with lively acidity. Beautifully balanced with savoury blackberry and dark chocolate flavours enhanced by a floral note. Fresh finish.

91 points

Ample and heady perfumed violets lead off this peppery and complexed syrah, the premium syrah bottling from LVP. Savoury roasted meats, cured meats, cassis, bright wild blueberry, sultry baking spices and thorns fill the structured, lush palate, one built on 18 months in French oak (mix of second fill and neutral) and framed with taut tannins. Potent and alluring tobacco and mixed peppercorns throughout, from start to lengthy finish. Unfined and unfiltered. Pretty and pretty drinkable now with a decant and rack of lamb, but its best years are ahead yet.

91 points

A truly serious, deep, full-bodied, intense syrah that could give many of its Northern Rhône equivalents a run for their money. The texture is silky and full, showing ripeness that was well-managed, and there is great length and balance, too. Between the lovely black fruit and the layers of pepper and spice, the aromas are generous as well, with a good amount of complexity. Drinkable now, worth following for several years.

92 Points

This is absolutely fantastic BC Syrah. This is an example that shows where BC can be as good as anywhere in the world with Syrah. The nose is intense and complex and ticks so many boxes of what you are looking for in moderate climate Syrah. Blueberry, floral, baking spices and so much more that due to its complexity is hard to describe. The palate is silky, smooth, round and ripe with a lovely balance of crisp acidity, ripe, round tannins and a fantastic complex palate of spices, blueberry, blackberry, black olive and some minerality. The finish is long and the complexity keeps evolving. A top class wine.

93 points

This Equinoxe confirms the 2013 vintage in my mind as one of the best ever in the deep south Okanagan. The 2.8 tons to the acre fruit is both powerful, yet elegant, and that's before you add the savoury, white pepper, black cherry, tobacco aromas and perfectly refined tannins. The palate is blueberries, and very floral with savoury streaks, licorice and amazing elegance and length. Only 12 percent [second filled french oak] is the secret and 88 percent neutral barrels built to express the terroir of this Osoyoos based fruit. Fabulous potential here in what is a wonderful bottle of syrah. It will be even better in five to seven years.