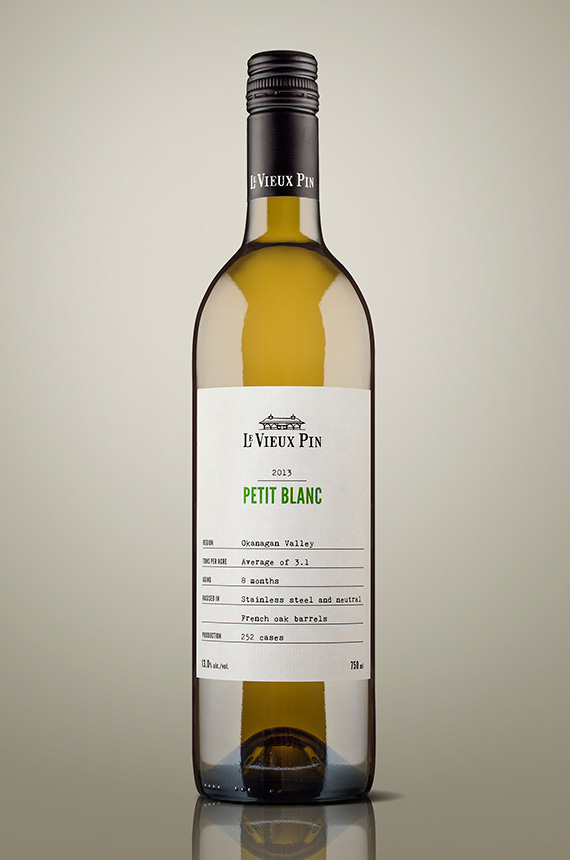 2013 Petit Blanc
Petit Blanc is a wine that is lithe but not light, fun, and free of heavy handed winemaking. No new oak, no malolactic fermentation, no battonage, no none sense.  A wine that hits above its weight and delivers a strong quality price ratio. A wine that you can open readily on a week night and pair with a variety of food without putting a dent in your wallet.
The 2013 vintage of this unique blend is sauvignon blanc and viognier dominant. Few other aromatic varieties are in the blend making the whole greater than the sum of the parts. Tropical fruit flavour elements are everywhere: guava, passion fruit, and melon abound on both the nose and the palate while there is a citrus core note throughout. The most attractive quality of the 2013 Petit Blanc is the phenomenal balance between the at the same time round and crisp quality that this wine offers on the palate. Entry on the palate is round but it focuses on the mid palate while the finish is crisp and refreshing.
Petit Blanc is extremely versatile with virtually endless pairings.

Meat-Based
It is the perfect wine for pan seared scallops with a rich burnt butter sauce on a Friday evening.

Plant-Based
A Frisée Salad with an orange vinaigrette & a cheese board on a sunny Sunday brunch as well.

Spec sheets for other vintages
Slideshow Items
A blend in which Sauvignon Blanc dominates, promises an off-dry wine on the nose but then surprises with dryness on the palate. The fruit is nicely balanced by acidity, and there's plenty of integrity for the winery's entry-level white. As a side note, the label for this wine has changed to be more in line with the higher tier wines from Le Vieux Pin (the 2012 vintage bore the sigma label).