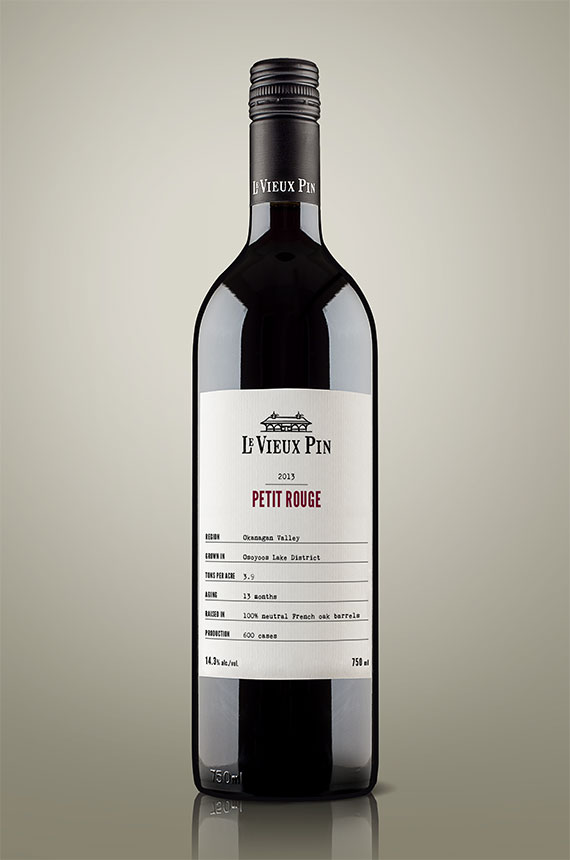 2013 Petit Rouge
The inspiration for petit rouge is to make a wine that adheres to the same exacting standards and level of care as the rest of the wines at Le Vieux Pin, yet at the same time is more accessible upon release. Made from the fruit of younger vines and vines pruned and cropped at less stringent levels, petit rouge offers a big bang for your buck.
This year's blend is comprised of mostly Merlot, thanks to a gorgeously balanced crop. Sun, moon and stars lined up for Merlot in 2014. Syrah albeit in smaller part of the blend still makes its presence known both on the nose and on the palate. The palate is lively and harmonious. Great balance of fruit, tannin and acid, makes this wine quite versatile.
Please note prices do not include applicable taxes or bottle deposit (PST 10% and GST 5%)
This beauty goes well with so many different dishes. While it is perfectly fine to drink on its own, it is at the dinner table with food that this wine will shine brightly.

Meat-Based
Enjoy it with pork chops glazed with macerated red cherry sauce or with a pâté & charcuterie board.

Plant-Based
Vegan enchiladas or a hearty ratatouille on brisk fall evenings are perfect companions too!

Spec sheets for other vintages
Slideshow Items
89 Points

Spicy, juicy, balanced. Made mostly of Merlot with a small dose of Syrah grapes, which comes from the Osoyoos lake district. This wine spent 13 months in neutral french oak barrels, which allow the wine to breathe without imparting the toasted or oaky characters found in the newer barrels. Expect spice and currants, black plums, and juicy pomegranate with dried herbs, leather and tobacco. The palate is supple on the entry. It has a juicy character and nice structure with fine tannins and good balance.

Merlot with about 10-20% Syrah offers up bright cherries and dusty blackberries with spicy notes thanks to the Syrah, and a touch of oak from neutral barrels that allow for the fruit to come through. In past vintages, this wine has had very different ratios of the grape varieties used, including other varieties not used in 2013, so this year was a departure that I must say worked well. The Syrah complements the Merlot nicely, and the balance and surprising complexity in this entry-level wine make is punch above its weight class.

90 points

This is primarily Merlot with a little Syrah to fill out the blend. The wine begins with demonstrative fruit aromas – black currant, blackberry and cherry. These are echoed on the palate and in the spicy finish. The soft ripe tannins make this an approachable wine for drinking now; but it will cellar well for a few years.