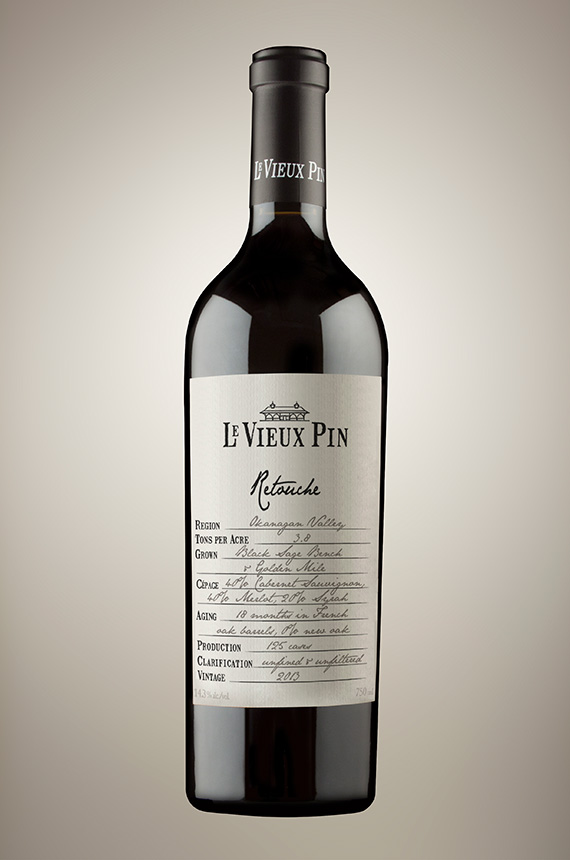 2013 Retouche
After three atypical vintages in a row, the 2012 growing season is a return to a more typical summer growing season in the South Okanagan Valley. After an initial scare of unusually high record rainfall in late spring the remainder of the growing season was an absolute dream come true. Mid July till late fall gave us very hot days combined with typical cold desert nights. Growing degree days for the South Okanagan were above average and certainly much higher than 2010 and 2011. One of the hallmarks of this vintage was extremely uniformly ripe and clean grapes with minimal need for sorting (quite the opposite of 2008, 2010 and 2013). The resulting wines are more fruit forward with round structure thanks to plenty of sunshine and heat units; the cool nights resulted in excellent, piercing aromatics and bright acidity in the wine.
Retouche pays homage to the historical practice of "Hermitaging" wines in Bordeaux during the 1800's. Winemakers in Bordeaux added Syrah (often from the famous vineyards in Hermitage) to their wines to add warmth, roundness and comfort-characters sometimes missing from the structured, powerful Cabernet Sauvignon. As such it would be incorrect to simply call Retouche a Cab/Syrah. We conducted dozens of trials with various barrel samples and different percentages of Syrah to achieve the result we were looking for. In the end we succeeded, adding only enough Syrah to our Cabernet Sauvignon that it sits invisibly behind the Cabernet filling in the gaps. After all, it wasn't until the late 1900s that the world learned about this fraudulent practice in Bordeaux.
A mere 61 cases of Retouche is made in 2012. Like all the reds in 2012, Retouche too shows a more inward wine built for the long haul. The structure of this wine is firmer than its predecessors and warrants slumber time in the cellar to show its full potential. The nose is a melange of dark fruit: black cherries, blackberries and black currants. grilled bell pepper, peppercorn crusted beef and char greets you on the nose and carries onto the palate. Cedar, and spicy sandalwood hint on the finish. A monumental wine that is only going to improve drastically with time.
Please note prices do not include applicable taxes or bottle deposit (PST 10% and GST 5%)
The complexity & balance of this wine can be complimented with the south-western French style of cooking with a hint of spicy flavours of the Pyrenees.

Meat-Based
Braised rabbit & prune, chicken ballotine and flavours of Périgord black truffles are all lovely matches.

Plant-Based
Mushroom & spinach quiche or stuffed peppers with mildly spiced lentils and potatoes are delicious too.

Spec sheets for other vintages