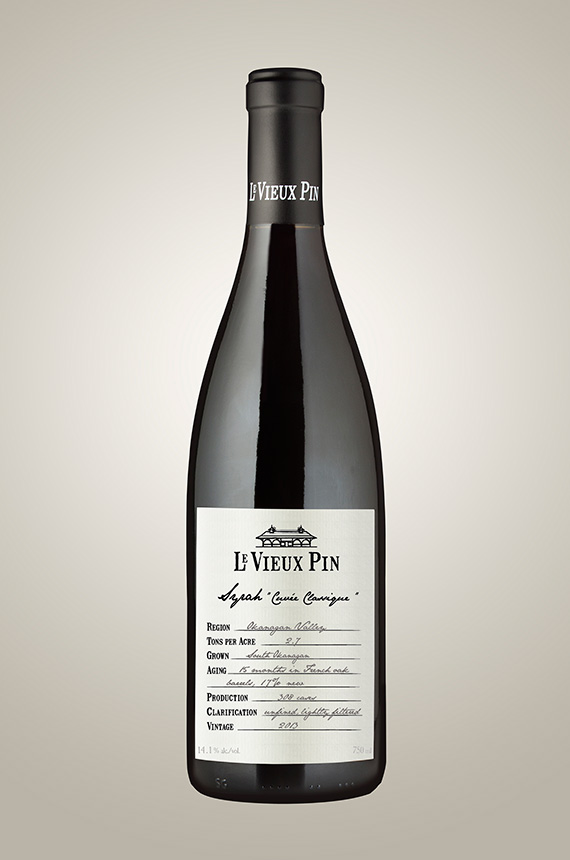 2013 Syrah Cuvée Classique
2013 is a tale of two vintages in the same year. Dry and warm autumn is almost a sure thing in our region. 2013 was a rare exception. We had an unusual string of rainy days in the middle of harvest in mid September. The characteristic of the wines is as such dependent on if the grapes were picked before or after the rainy period. Wines made from grapes harvested before the rain virtually needed no sorting as they showed clean and robust flavors of a dry growing season with plenty of very hot days. The rain was a double edge sword though and a blessing in disguise if you will. On one hand it provided an opportunity for the vines to continue pushing forward for better sugar/acid balance and greater phenolic maturity but on the other hand it meant the arrival of rot (need for extensive sorting) and flavor dilution in less than ideal sites (not to worry we have no mediocre parcels). Sorting was the key word along with when the fruit was harvested and in which site it was grown. Buyers of Okanagan wines in general are best to shop by producer and well-known sites for their quick draining soil make up. Taste before you buy is our recommendation in general but in particular for 2013.
While it combines elements of both the old and new world, our Syrah Cuvée Classique leans more toward what you would expect from France's Rhone Valley – hence the name. While its sibling Cuvée Violette showcases the floral, graceful, perfumed side of Syrah, Cuvée Classique shows the dark, savoury, spicy and powerful side of this noble grape variety. The wine is nuanced, elegant yet structured in its youth. Black peppercorn, game meat, a mélange of wild berries, bacon and smoke form the aromatic and flavour profiles of this wine.
Please note prices do not include applicable taxes or bottle deposit (PST 10% and GST 5%)
Meat-Based
Rosemary and thyme-braised lamb shoulder with roasted fingerling potatoes or anise-crusted vision loin with garlic mash are a couple of our favourites to pair this wine with.

Plant-Based
Cauliflower steak with romesco sauce or a lentil shepherd's pie will go a long way with this wine.
Slideshow Items
91 pts

[compared to Syrah Cuvée violette] More pepper and a hang of old world cure infiltrate the violets and the hyacinth. The lure of Umeboshi, grainy bean paste ice cream and leathery tang whiffs suppress the sweet, lingering florals and prepare the palate for what massive follows. Sweetness enters the fray, not as sugar, but as a thickening agent to balance the severe tannic grit. This needs five years minimum to settle and ten more to fully soften. Drink 2020-2030.