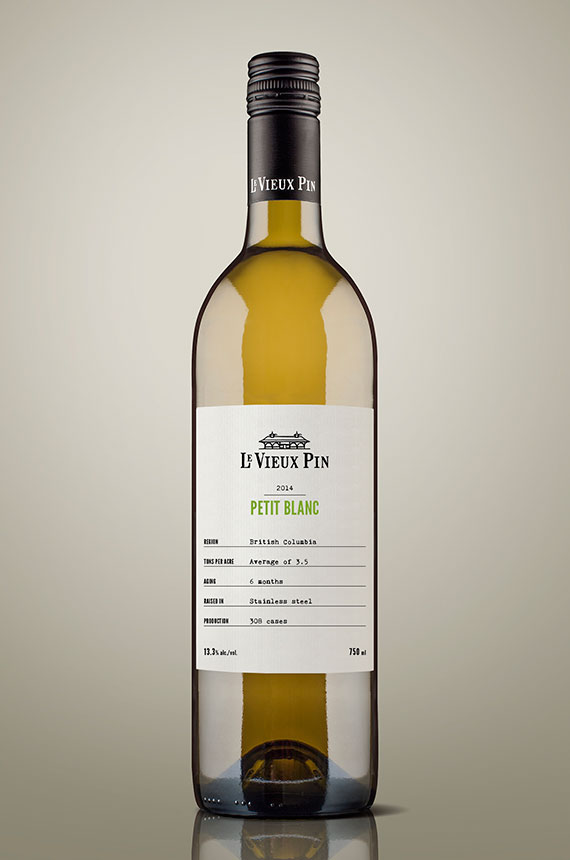 Winemaker's Notes
Petit Blanc is a wine that is lithe but not light, fun, and free of heavy handed winemaking. No new oak, no malolactic fermentation, no battonage, no nonesense.  A wine that hits above its weight and delivers a strong quality price ratio. A wine that you can open readily on a week night and pair with a variety of food without putting a dent in your wallet.
The 2014 vintage of this unique blend is Pinot Gris and Sauvignon Blanc dominant. A few other aromatic varieties are in the blend making the whole greater than the sum of the parts. Stone and citrus fruit flavour elements are everywhere: apricot, peach, yellow plums and melon abound on both the nose and the palate while there is a citrus core note throughout. The most attractive quality of the 2014 Petit Blanc is the phenomenal balance between the components. The entry on the palate is round but it focuses on the mid palate while the finish is crisp and refreshing.
Please note prices do not include applicable taxes or bottle deposit (PST 10% and GST 5%)
Pairings
Petit Blanc is very versatile with virtually endless pairings. We enjoy an endive salad and a fruit and cheese plate on a sunny Sunday brunch or orange ruffe, quinoa and bacon wrapped scallops on a Friday evening.
| | |
| --- | --- |
| Region: | Okanagan and Similkameen Valley |
| Soil Type: | Varried. mostly glacier sediments and fluvial fan. |
| Age of Vines: | 8-20. average of 12. |
| Yield: | 3.5 tons/acre |
| Production: | 308 cases |
| Alcohol: | 13.3% |
| Aging: | For 6 months on the fine lees in Stainless Steel tank |