Sold Out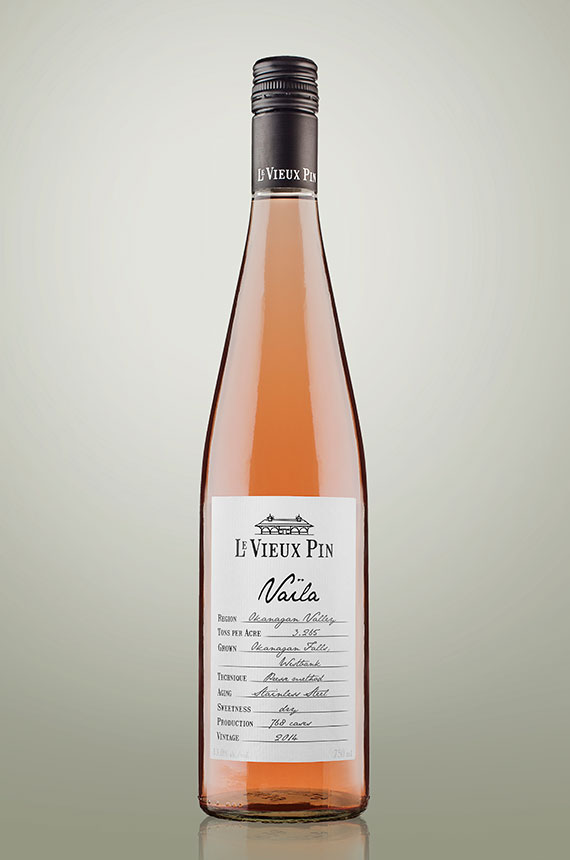 Winemaker's Notes
2014 was the second warmest year since 1998 for South Okanagan. 2014 vintage saw above to way above average summer temperatures. July and October where were way above last year but September was lower than the last 3 years, hence pushing for better phenolic ripeness was not a concern or at risk of gaining high alcohol. Overall, 2014 vintage will be remembered as a very hot one and it had an impact on the yields: the tonnage we got were lower than the tonnage excepted mostly because of thicker skins and smaller berried. The wines are concentrated, with a very good ripe tannic structure.
Made with the "presse method" this rosé is produced from the gently pressed juice of Pinot Noir grapes and entirely steel tank aged. It is a serious, yet fun, delicate wine absolutely perfect for the summer. The 2014 Vaïla sitting at a very sensible 13% alc./vol. presents as usual a very pale salmon colour along explosive aromas of rhubarb sorbet, pink grapefruit rind and the amazing bright and crunchy red fruit BC rosés are increasingly becoming famous for.
Pairings
Charcuterie and artisan cheeses make for a classic pairing.
| | |
| --- | --- |
| Region: | Okanagan Falls, Westbank |
| Production: | 768 cases |
| Alcohol: | 13% |
| Aging: | Stainless Steel tank |
Slightly off-dry on the palate, balanced by nice, crisp acidity. The aromas and flavours are of tart red berry fruits like raspberry, red currant, and red cherry giving, a juicy freshness to the finish.

Rhys Pender (Master of Wine) | Montecristo Magazine
88
This finely structured, taut rosé is made with the gently pressed juice off pinot noir grapes, aged in stainless to preserve fruity freshness and crisp, crunchy acidity. Green raspberry, thorns and rhubarb lead to a rush of raspberry, red currant, dried herbs and delicate wild strawberry. Precise and elegant, befitting lox and hen eggs or savoury wild boar charcuterie.

Treve Ring | Gismondi on Wine | Tasted: June 2015
from 100% Pinot Noir grapes, again harkens back to old Europe with its richer nose leading to being bone dry on the palate. There's rhubarb and an almost creamy richness that is subtle on the nose (thank the Pinot Noir grape for this). Lovely, long finish will put a smile on your face. The Le Vieux Pin team approaches rosé with the ideology that the grapes need to be cultivated for the wine you are going to make, so crop levels are kept lower and the grapes are picked earlier than if the Pinot Noir grapes were meant for a red wine. It's an old school, old world approach that allows for the fruit to shine and to maintain vibrant acidity.

Wine Shout | Wineshout.com | Tasted: April 2015
90 points
This delicious wine is made entirely with Pinot Noir pressed for rosé; it is not a saignée rosé. The wine begins with appealing strawberry aromas leading to flavours of rhubarb and pink grapefruit. The wine has a refreshing dry, tangy finish.

John Schreiner | Tasted: April 2015