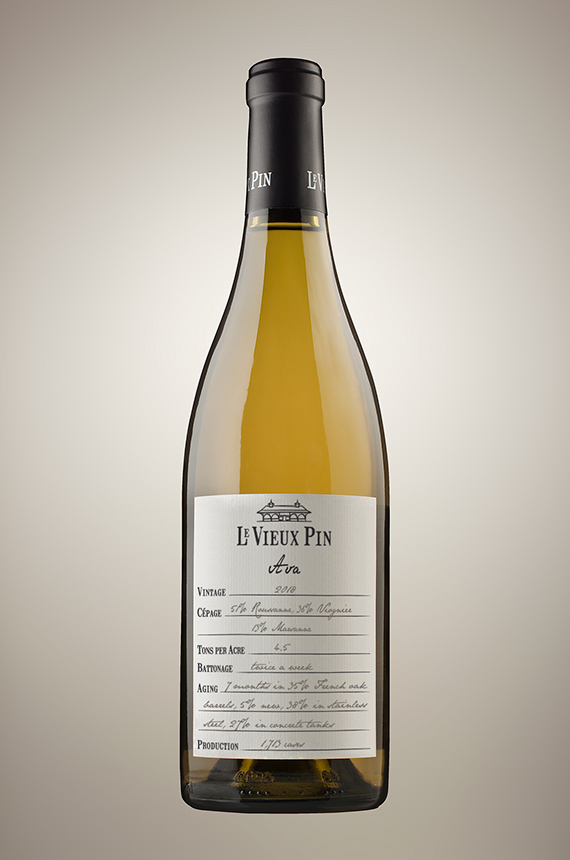 2018 'Ava'
2018 Ava is full of firsts. The first time since the inaugural release of this wine back in 2009 that the cepage is Roussanne dominant, followed by Viognier and Marsanne. Also the first time that part of the wine was fermented and aged in un-lined concrete tulip. 2018 Ava is packed with the very essence of white Rhone grapes. A regal wine with structure and poise. A wine that will both wow in its youth and in the long term (specially after 5-8 years of bottle age). Today, Ava 2018 is at its best with a long decant or better yet tucked away for at least a couple of years of slumber time in the cellar. There is an erect spine holding this textural wine in balance. Red Haven peaches, yellow plums are mingling with white aromatic flowers, herbal tea, and light brioche notes. The restrained amount of new oak used (5%) in the upbringing of this wine is very well integrated already and barely shows itself more than a thin frame around a beautiful work of art. With a long decant, slight acacia honey drizzled notes on toasted brioche bun come to the foreground. Anticipate beautiful toasted cereal notes to come forward about half a dozen years post vintage.
Meat-Based
Herb-crusted quail or chicken with corn breadsStuffing served with apricot jus or a side dish of roasted potatoes in herbes de Provence would go perfectly with this wine.

Plant-Based
A mild spicy noodle dish like pad thai or a mixed vegetable stir fry would pair marvellously.
Slideshow Items
Brone Medal

Peachy, Apricot, pithy acidty with creamy finish. well textured.

92 points

Calculated, figured and reasoned, a 51 per cent roussanne, (36) viognier and (13) marsanne organized, Rhône motivated blend that just fits right. A kiss of new wood and a 35 per cent wood campaign, slightly more in steel and then the other freshener, that being a fifth of this exceptional vintage fruit having seen time in concrete tank. Yes the aromas are wildly fresh, far away tropical and cumulatively enticing. A white blend of rhythm and soul, actionable in every part of its drift and coil, democratic, of no accident, come up to please and at the same time, foil. Offers this and that, high tempo acids opposite fully ripened fruit and all tolled, wrapped up with a tailored bow. Drink 2020-2024. 5/5 value.

92 points

5/5 Value

2018 is a stellar vintage for Le Vieux Pin's Rhône-inspired white blend, here with just over half roussanne, plus a third viognier and the balance in marsanne. One third of the lot aged in wood goes undetected, save for the slightly more rapid, positive evolution than the concrete and steel portions. Gentle texture meets ripe acids in a full=bodied, round and creamy ensemble, while yellow and white fleshed fruit flavours dominate. Classy, flavourful, concentrated but fresh, this gets it right all around. I'd suggest another year or so in the cellar to develop even more complexity and nuanced flavour. Tasted July 2020.

92 points

Ava is inspired by the whites of the south of France made from roussanne, marsanne and viognier. In this vintage roussanne takes the majority position at 51%, followed by viognier at 36% and marsanne the balance. It was fermented and aged in French oak, new tulip shaped concrete vats and stainless steel. It is a very fine nuanced and balanced wine, quite rich yet elegant. The nose is gentle with yellow plum, starfruit and florals plus vanilla, light spice and toasty nuances from frequent lees stirring. I am most impressed by the delicate balance and smooth texture, with the 13.6% alcohol in check and very good acidity. The length is excellent with lemon joining the mix. Fine to enjoy now although I suspect more complexity in a couple of years. Tasted June 2020.