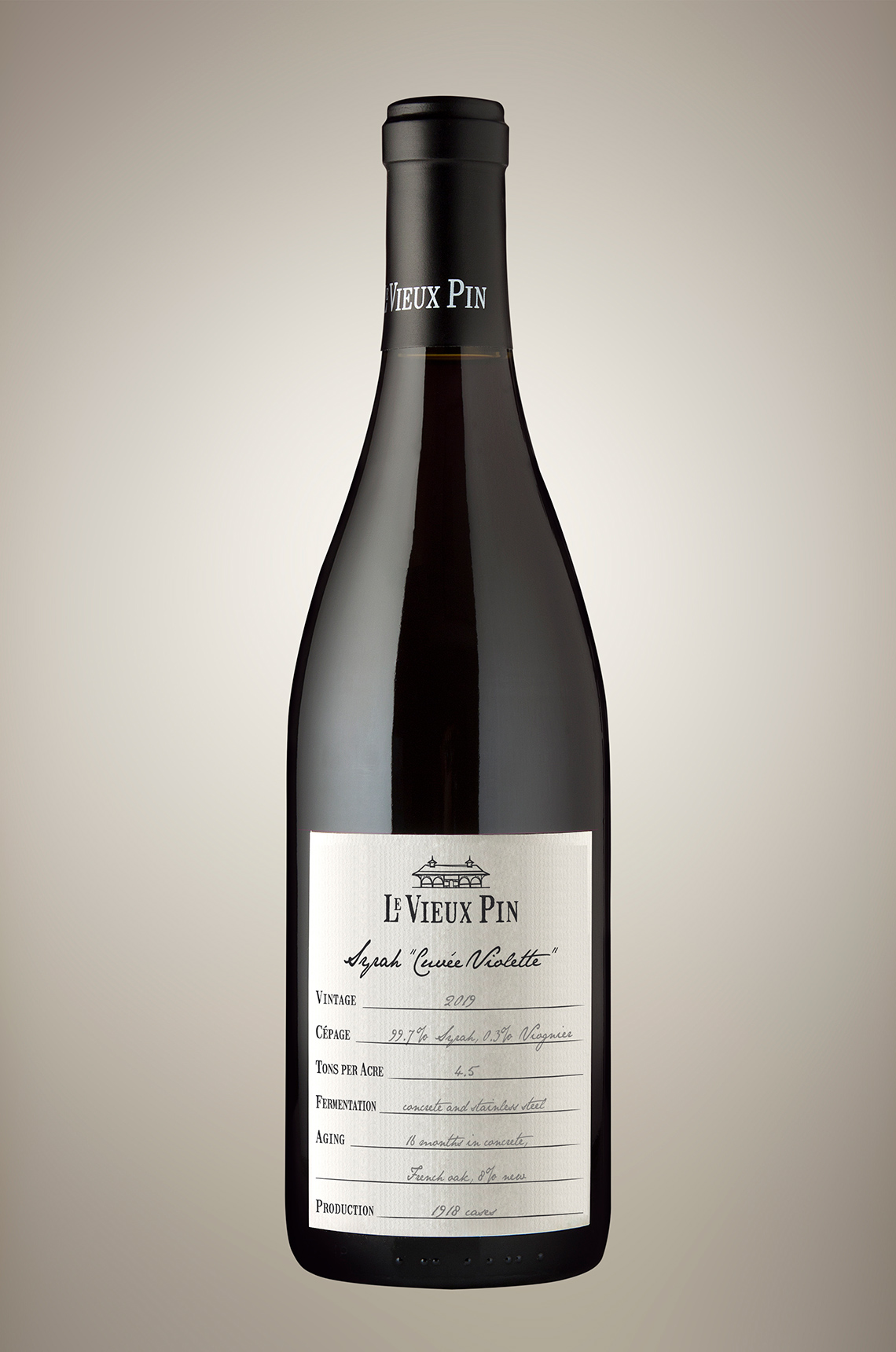 2019 Syrah Cuvée Violette
Cuvée Violette, as the name suggests, displays the perfumed and floral side of this noble grape variety. The palate is silky smooth thanks to a gentle co-ferment with  under 1% Viognier. The focus is on the feminine and graceful qualities of Syrah coming to the foreground. In the cellar we kid around and call this wine a Syrah for Pinot Noir lovers. Crunchy bramble fruit and purple flowers mingle with pepper and spice. Red bramble fruits burst on the nose and on the palate.
This cuvée is ready to be enjoyed and savoured upon release. It can be aged for the mid-term (5-7 years). It will most likely continue to improve past that age too.
Meat-Based

Crispy-Skin Duck Breast with a Lavender Honey Gastrique or Steak Dianne with a Flambe of Crème de Violette and Cassis Moutarde is a match made in heaven as well.

Plant-Based

Hearty, earthy and lightly herbal food with this one. Lentil Walnut Meatloaf with Burnt Onion Jus is definitely a winner.
Slideshow Items
93 points

Michaela Morris (MW candidate and Decanter Magazine writer) had Syrah Cuvee Violette as one of her top 10 wines of the year in 2022.

Le Vieux Pin crafts three Syrahs each highlighting a different aspect of the grape – Cuvée Violette an ode to the grape's elegant, floral side. It is also consistently one of BC's best-value Syrahs. Winemaker Severine Pinte ferments at low temperatures for a gentle extraction and the wine ages in a combination of stainless steel, concrete and French oak allowing the brightness and freshness of plum and raspberry fruit to take centre stage. Nuanced by herbs and violet and framed with fine tannins, the 2019 is a gorgeous mid-weight charmer.

90 points

La Violette has been considered the benchmark in more affordable BC syrah for the past handful of years, thanks to the deft winemaking of Severine Pinte who emigrated from the south of France to the Okanagan several years ago. She is combining viticultural know-how and winemaking acuity to create syrahs that capture the grape to a tee, with a structural and winemaking sensibility that the French have mastered. There is a weave, complexity and balance that is very fine, if just a bit Euro rustic rather than New World glossy. Expect accurate syrah cherry, pepper, BC sage, dried leaf and dusty earthiness on the nose and palate. The length is very good to excellent, although I wished for more (which is to be found in her more expensive wines). Best 2022 to 2025.

92

Fresh and delicate with haunting aroma of red plum, violets and white pepper with subtle licorice notes on the finish. The touch of oak is integrated. Polished tannins with bright acid and a savory finish. One of the best Syrah coming out of the Okanagan. Bravo. Tasted blind at NWAC in October 2021.

91

Fruit lurks and the wine waits. Closed in such brooding youth. Darkening red fruit to purple and black. Quality tannins, sweet and high acid retention. Tang in spades, hearts and across palates. Wild ride, not the silkiest nor the most ethereal as far as syrah is concerned but do not judge less you be judged and here syrah perfume will emerge, emit and express. Be patient. Drink 2022-2026. Tasted blind at NWAC2021, October 2021.