Food can and is just as sexy as wine or a sexy outfit. So when you find a recipe that you can make slowly and seductively in front of your valentine, why would you choose to make anything else!
These delicious toasts with creamy goat cheese and sweet raspberries, drizzled with sticky, soft honey will match our juicy Ava 2013 beautifully.  The blend of Viognier, Roussanne and Marsanne share many of the same notes but with just enough acidity to balance with the creamy goat cheese and sweet honey. Enjoy this as a start to your evening, or as an afternoon treat.
Recipe and picture courtesy of Becky Harden – The CookieRookie.com.
Raspberry and Honey Goat Cheese Bruschetta
Serves: 16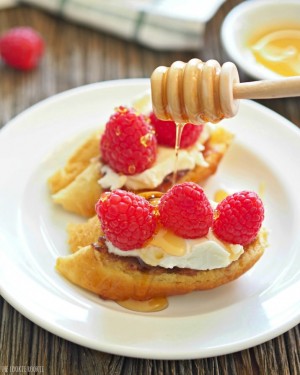 Ingredients
Loaf of French bread, sliced into 16 ½ inch slices
1 8 oz package of Driscoll's Raspberries
4 ounce package of goat cheese
Raspberry Jam
Honey
olive oil
Instructions
Preheat oven to 350F
Placed sliced bread on a foil lined cooking sheet and spray or brush the top of each slice lightly with olive oil.
Bake the break for about 8 minutes, until bread is slightly browned and crispy.
Spread Raspberry Jam on each slice of bread.
Top the jam with goat cheese
Place 2-3 raspberries on each slice of bread and drizzle with honey
Enjoy!