Le Vieux Pin gets lots of love in England. Below, are pictures and text sent to us by our awesome and passionate importer/retailer in London, England: Negozio Classica.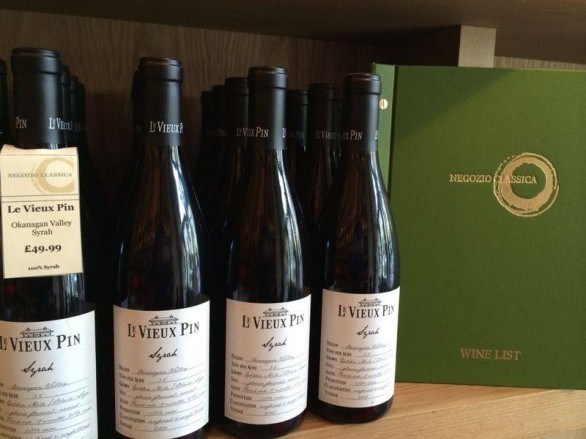 Derek Morrison(Manager): "With every wine that we put on the shelves we look to find examples which uniquely reflect the variety and place from which they're grown. We look for hand crafted wines with personality, that challenge our senses and preconceptions of what a wine is. I know first hand that wines from the Okanagan Valley are capable of captivating us in this way. I remember someone musing to me that "A great wine is one which awakens emotion".
I spend a lot of time in tastings dissecting wines logically and technically, but occasionally wines leave me at a loss for words. The wines at Le Vieux Pin and LaStella continuously affect me in this way. My greatest motivation in bringing LVP wines here to London was simply to share that experience with my guests. I love blind tasting people on the Syrah and having them guess its origin. It's my favourite way to shatter their preconception of Canadian wine. It's become a popular wine in the shop, and we regularly feature it by the glass. It's not just here to illustrate the quality of Canadian wine, it sits on our shelves as one of many great wines. It just happens to be from Canada."
It is feedback like this that fuels our passion, and makes all the back-breaking hard work worth while. We Thank Derek, Alessio and the rest of the team at Negozio Classica for their humbling words.