In famous wine growing regions around the world you'll find certain varietals more highly esteemed than others. In Napa and Bordeaux Cabernet reigns king, in the Barossa Valley its Shiraz, and in Argentina Malbec takes the crown. But what about Okanagan? As a relative newcomer to the world stage of viticulture, the region doesn't seem to have an immediate association with any single varietal, but maybe it should. In this unique micro-climate certain grapes fare well and Syrah seems particularly at home.
One of our designated blocks for Syrah shown below.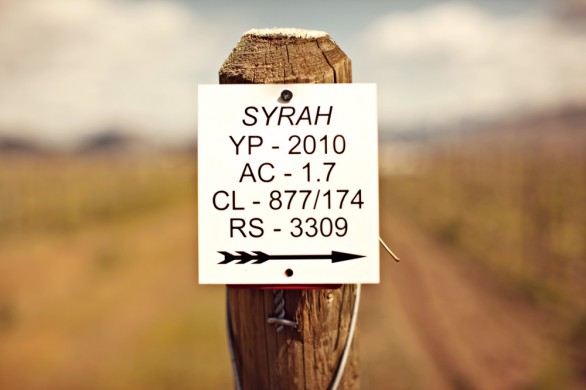 Syrah displays incredible versatility and a wide range of characteristics. From the Old World Rhone style, with their funky barnyard, smoked meat, and floral notes to the more contemporary, berry-driven Shiraz in Australia, the grape is full of expression.
"Most of those notes can continue on the palate, where in warmer years and hotter climates (like contemporary Shiraz out of Australia), one could also note jammy dark fruit like blackberry and blueberry being a little more generous with an additional dash or two of pepper. They can be earthy and on the lighter side of medium-weight in cool climates, and downright boozy, heavy and sweet-ish where it's hot. Add a little oak treatment (which is often done) and you can see a layer of vanilla, dark chocolate and a good helping of baking spices."
"Two recently-tasted Syrahs that rocked my world that you can get here at My Wine Canada include B.C.'s Le Vieux Pin 2011 Syrah [$49.90], which seems to bridge Old World and New World in style…"
In the South Okanagan, we find ideal conditions to growing amazing Syrah that strikes a perfect balance of flavors, reflecting the vineyards where it grows. Each example we produce shows off a slightly different aspect, from the elegant and finessed Syrah Cuvée Violette 2013 [$29.90]; to the balanced Syrah Cuvée Equinoxe 2011 [$89.90] with floral notes and white and black pepper; to the bold Syrah Cuvée Classique 2012 [$49.90 mentioned by Kurtis] with spice and pepper notes and darker fruit profile showing off the savoury side of this varietal.
Syrah plays nicely with a wide range of foods.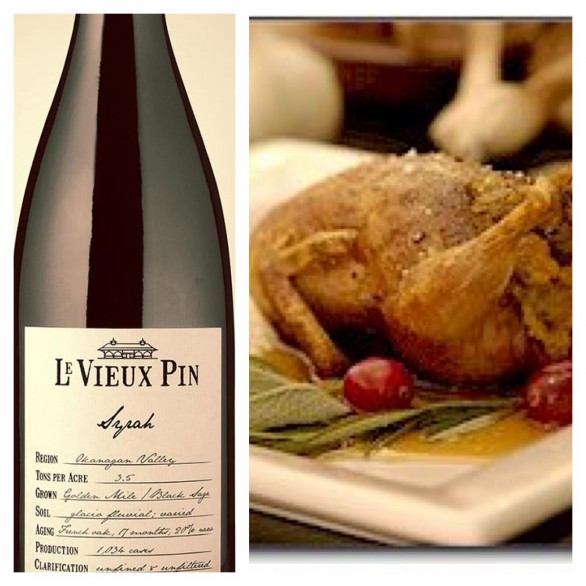 While Syrah remains one of our premier varietals at Le Vieux Pin, you'll find an array of other late-ripening varietals like Merlot, Cabernet, and Cab Franc growing in our vineyard blocks. Each one fares well in the region, and given the area's rather short viticulture history, we imagine the potential exists for any one of these to define South Okanagan's wine profile. Only time will tell…
Visit My Wine Canada to learn more about Syrah and its history.