This review by Timo from Wineshout is just in time, as we just released our 2011 Syrah to the public just over a week ago! It's well written and a perfect review (of course, we are not bias at all ;). So, pour yourself a glass of Syrah and brush up on your wine reading…here's a copy of what they said – enjoy!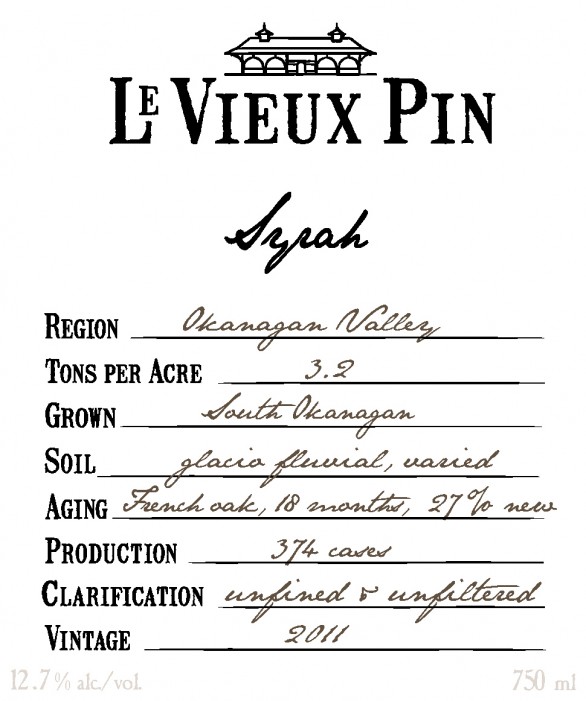 "The 2011 Syrah from Le Vieux Pin in the Okanagan Valley is a northern Rhone style wine from 100% Syrah grapes. The fruit comes from four vineyards in the south Okanagan from vines that are 6 to 11 years old. The total productions is limited to a mere 374 cases and a smaller allotment of 60 cases of half-bottle.
The last Le Vieux Pin Syrah I tasted was the inaugural release, the mighty and meaty 2008 vintage, which was blended with a smidgeon of Viognier and impressed me greatly.
As for the 2011 vintage, according to the winery:
2011 was a long and cool growing season without the extreme daytime heat the South Okanagan is known for. This resulted in grapes that achieved full phenolic ripeness at record low sugar levels (and thus low alcohol levels). South Okanagan had an amazing fall with mild weather which gave us the luxury of a seven week long picking window. 2011 goes into the history book as an atypical, yet very welcome vintage.
On the bottle, Le Vieux Pin have maintained their trademark old-school, info-packed labeling, of which I'm a major fan. It harkens back to an earlier time when wine labels were hand-written to display only the essential info. Some say the label shouldn't have an effect, but for me it's part of the whole experience, and I'm sure in a way, affects my reaction to, or preconception of, what I'll experience in the bottle.
The 2011 Syrah is so very young and even a couple hours in the decanter did little to put a dent in it's youthful reluctance borne from the cooler than usual growing season. Because of this, it's not as forward and bold as the '08 vintage, though it's easy to see the potential of what it'll be about 2-4 years down the line.
The nose is subtle, with black pepper, black berries, and a touch of black – yes, black again – liquorice, with a very subtle floral component. The forest berries continue through to the palate with an intriguing complexity, creating a refined balance with the French oak. There's spice and pepper on the finish. The tannins provide for a firm backbone.
The wine has great structure, making the 2011 vintage a keeper, and one for the cellar. It'll be worth the wait."  Wineshout www.wineshout.com